Ridge Skateboard Review: All You Need to Know!
If you've been looking for cruisers, you've probably come across Ridge Skateboards at least once in your search. The company is actually quite well-known for the mini cruisers it manufactures.
It would be best if you were extra careful when you're looking for skateboards, as the quality of your skateboard can make or break your skating experience.
Does Ridge Skateboards have high-quality skateboards that improve your overall skating experience?
In this Ridge Skateboard review, we'll discuss in detail what the company has to offer for skateboarders. From the decks to the trucks that hold the board together, we'll review each Ridge skateboard component.
After you're done with this post, you can decide for yourself if Ridge Skateboards lives up to its name or not.
What is Ridge Skateboards?
Believe it or not, Ridge Skateboards started in 2011 from an orange boat. After much trial and error, the company eventually expanded into one of the leading skateboard brands. Now, they ship out trucks of skateboards on a daily basis.
The secret to Ridge's success lies in the secret plastic formula they use to construct their decks. As a result of their trial and error, Ridge was able to come up with an interesting blend between traditional and modern features in their skateboards.
The company is well-known for manufacturing innovative and high-quality cruisers.
Ridge Skateboard Design
As mentioned earlier, Ridge Skateboard has a unique style where they blend traditional and modern features in their cruisers. They've added their own creative twist to the classic 1970s design of the mini cruiser.
In addition, their secret plastic formula makes their boards flexible yet sturdy. You can ride these boards around freely without worrying about damaging them.
Another thing that sets Ridge apart from other companies is that Ridge manufactures its mini cruisers in the UK. Generally, most companies get their mini cruisers manufactured in China. So, if you're looking for a cruiser that is not manufactured in China, then Ridge is the way to go.
Ridge Skateboard Decks
Ridge prioritizes comfort and quality over everything else, which is evident in the construction of their decks.
Their mini cruisers are small and portable. You can easily carry your board with you on the bus or store it in your bag in between commutes.
Longboard riders might struggle initially, but there's no going back once they get used to it. Ridge cruisers usually have a small kicktail that gives your foot extra support and can also be used to steer the board.
In addition to the compact size, the deck's unique plastic makes it quite flexible and sturdy. Ridge cruisers usually have a weight capacity of 200 lbs.
Ridge Skateboard Wheels and Bearings
Unlike some brands that use wheels from other manufacturers, Ridge has its own wheels. Their boards are usually equipped with 59 mm, 88A polyurethane wheels. The wheels' diameter ensures they're fast and stable, while the softness provides skaters with great grip.
The wheels feature ABEC7 precision bearings that are made of stainless steel. These bearings are fast and durable.
You can experience a smooth riding experience thanks to the PU wheels and the ABEC7 bearings. You can also challenge yourself by taking these Ridge boards out on rough terrains.
Ridge Skateboard Trucks and Bushings
Again, Ridge does not disappoint when it comes to the trucks. Their cruisers use 4-inch die-cast aluminum trucks with 90A bushings and soft pivot cups.
You won't have to worry about sharp turns and unexpected obstacles as these trucks provide excellent turnability.
In addition, these trucks are quite durable. They can bear up to 200 lbs while getting you through rough terrains.
How Much Does a Ridge Skateboard Cost?
The prices vary a little depending on the model and its specifications. You can find Ridge Skateboards for $60 or more.
Generally, you can get good quality skateboards between $60 to $70. So, some Ridge skateboards may be a bit pricey.
However, given that these boards are extremely durable, have high-quality construction, and promise high-performativity, you get your money's worth.
See also:
Best Ridge Skateboard Review
Now that we've looked at specific features let's review some of Ridge's best-selling skateboards to get a better idea of what the company offers.
1. Ridge Mini Cruiser 27-inch
Via: Amazon.com
The Mini Cruiser 27-inch is one of Ridge's most popular boards. With a length of 27-inches and a width of 1.5-inches, this board is small and compact. It is light-weight and easy to carry around.
You can store it in your backpack or in your locker without worrying about damaging the shape of the deck.
This board comes equipped with 59 mm 78A durometer wheels. The smaller wheels combined with the softer durometer give riders more control and stability.
The wheels come equipped with high-precision ABEC-7 bearings that allow your board to speed through the streets smoothly.
Pros
Light and portable
You can store it in a backpack
Small wheel combined with soft durometer provides more control
ABEC7 bearings ensure a smooth skating experience
Cons
Requires more force to push forward
2. Ridge Complete Maple Wood Retro 22-inch Mini Cruiser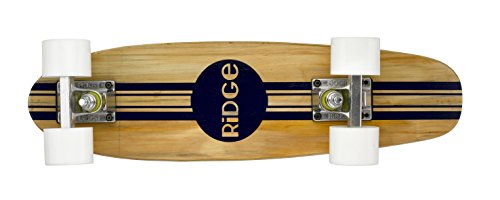 Via: walmart.com
The Ridge Complete Maple Wood Retro 22-inch Mini Cruiser is slightly different than most Ridge skateboards. This is because, unlike most Ridge skateboards that boast its special plastic formula decks, this board is made of 7-ply maple wood.
See also: Top 12 Best Complete Skateboards You Shold Buy
The Maple Wood Retro measures to 22-inches in length and is quite durable. Unlike most Ridge cruisers, this board allows you to perform easy tricks.
You can maintain your balance even at high-speed thanks to the strong grip tape on the surface of the board.
This board boasts 59 mm, 79A durometer polyurethane wheels. The softness of the durometer and the small diameter of the wheels allow it to remain stable and provide more control.
Pros
Durable 7-ply maple wood deck
Strong grip tape to help maintain balance
You can perform easy tricks on this board
Overall Riding Experience
Ridge brings to the market innovative and unique mini cruisers that provide high performance. The design of their boards is based on the iconic cruisers from the 70s. You can find their cruisers with 12 different wheel combinations.
One thing that really makes Ridge boards stand out is the secret plastic formula, which provides their skateboards with the perfect balance between stiffness and flexibility. This means that you can take these boards out for a ride without worrying about damaging the decks.
Here are some of the overall pros and cons of Ridge Skateboards:
Pros
The special plastic formula provides the perfect balance between stiffness and flexibility
Only company to not manufacture their mini cruisers in China
Compact and light-weight
Kicktail adds comfort and also allows for easy control
Trucks have excellent turnability
Cons
A bit expensive
Not suitable for complicated tricks
Conclusion
Each company has specific features that set it apart from its competitors. The charm of Ridge Skateboard lies in their innovative design and the special durable plastic formula.
In this Ridge review, we listed all of the features that the company has to offer. Plus, we also reviewed two of Ridge's top-selling skateboards. We hope this post helped you under the types of skateboards Ridge manufactures.
Related posts: