Enjoi Skateboards Review: Are They Worth Your Money?
If you've researched the best skateboards, you've probably come across enjoi skateboards at least once. The brand is well-known for providing skateboarders with quality products.
But does enjoi live up to its reputation?
That's what we'll be unraveling in this post. Not only will we talk about how enjoi came into being and the sort of products it manufactures, but we'll also have an Enjoi skateboards review.
Getting to Know Enjoi Skateboards
If you're curious to know more, check out the information we have below.
What are Enjoi Skateboards?
Founded in 2000 by pro skateboarders Marc Johnson and Rodney Mullen, Enjoi has gone through a lot of managerial change since its inception. However, despite these changes, it has been consistent in terms of quality and design.
You'll be able to spot an enjoi skateboard thanks to their iconic logo, which is an illustration of a panda. The vibrant colored decks, along with the logo and smart design, are refreshing and eye-catching.
Enjoi skateboards are owned and distributed by Dwindle Distribution.
If you're new to the skating community, a fun fact to remember about enjoi is that it's spelled with a lowercase 'e' and an 'i' instead of a 'y' at the end. The company's reasoning for this is that you can see more with one "l" (eye) than with a 'y'.
In addition, enjoi claims orange and yellow as their signature colors as it believes the colors symbolize fun.
What Does the Skating Community Think of eEnjoi?
Is enjoi a good skateboard brand?
Given the eye-catching graphics of enjoi skateboard decks, the company is quite popular amongst skateboarders. Moreover, it helps that they have some pro skateboarders in their team:
Caswell Berry
Louie Barletta
Ben Raemers
Some skateboarders have criticized the company for manufacturing its boards in China. Just because something is manufactured in China does not mean the product is low-quality.
From your phones to your helmet, most products you use daily are manufactured in China. This is because production prices in China are comparatively lower than elsewhere. Regardless of the place, if you find a good manufacturer that uses high-quality materials, your boards will be strong and durable.
Unlike Thrasher, which has a severe and rebellious image, enjoi has a chill and light-hearted image. If you're the easy-going type, you may find this image appealing.
Besides, enjoi boards are great for beginners. Not only are they available at reasonable prices, but they also provide beginners with excellent grip and maneuverability.
See also: Top 11 Best Skateboard Reviews For Beginners To Buy
A fun fact about enjoi is that the company has produced three skateboarding movies: Bag of Suck, Tweak the Beef, and Oververt. These movies have also won a few awards.
Does enjoi Only Make Skateboards?
enjoi is known for manufacturing skateboard decks. However, they also produce hardware, bearings, wheels, grip tape, stickers, and even apparel. Thanks to their bright and unique image, their clothing also sells quite well.
While their bearings' quality does not match with other brands like Bones or Zealous, they're still pretty decent.
If you want good quality hardware, enjoi is an excellent place to get it from. Their hardware is available in five different colors, which adds some life to skateboards.
Moreover, if you're a newbie and have a hard time telling apart your tail from your nose, the colorful bolts can help distinguish the two sides.
How is enjoi Deck Quality?
Unlike some manufacturers that press multiple boards at a time, enjoi only presses one board at a time.
How does this make a difference?
While pressing multiple boards at a time can save up money, it can also ruin the shape of skateboards. The concave shape may be difficult to attain, given the flexibility between the ply. In addition, there are chances that the binding between the glue and the ply isn't as strong.
This may result in a board that has a bad pop and might fall apart before its time.
Since enjoi boards are pressed separately, this ensures the shape and quality of each deck. The ply and glue bind together properly, promising skaters an excellent pop and a sturdy deck.
enjoi boards use R7 (Resin-7 epoxy) technology, which gives you a sturdy yet lightweight board. According to some riders, the enjoi pop can last you longer than two months even if you skate regularly.
On the other hand, a small portion of skaters have also complained about pressure cracks forming on their enjoi decks. Others have also complained about the decks being too heavy.
However, complaints regarding both these issues have been rare, and the majority of skaters have only expressed positive opinions about enjoi skateboards.
Top 5 Enjoi Skateboard Reviews in 2022
Now that we've discussed enjoi as a whole, it's time to look at some specific products the brand produces.
Are enjoi skateboards good?
Well, we suggest you read our reviews down below and make your judgment.
1. Enjoi Skateboards Whitey Panda Complete Skateboard
Via: Amazon.com
First up on our list is the enjoi Skateboards Whitey Panda Complete Skateboard. Made of Canadian maple veneer, this deck features enjoi's Resin-7 epoxy glue. Moreover, as the decks are pressed individually, this results in a more robust and durable skateboard.
The trucks are made of high-quality aluminum yet are quite lightweight. The kingpins and axle are made of grade 8 steel, while the bushings and pivot cups are made in the States.
Whether you want to skate on the streets or skate park, the 52-mm 99A durometer wheels will ensure you have a smooth ride.
This board boasts some of the best bearings in the market. The ABEC-5 rating Amphetamine bearings along with the synthetic oil and the Delrin Crowns allow you to glide on your board smoothly.
Plus, the rubber shields on the wheels are serviceable, which means you can remove them to clean your bearings.
Pros
52-mm 99A wheels allow you to skate in parks and streets
Canadian maple veneer deck is strong and durable
High-quality grade 8 steel kingpins and axle
Cons
Trucks aren't made to go downstairs or over large gaps
2. Enjoi Skateboards Rasta Panda Complete Skateboard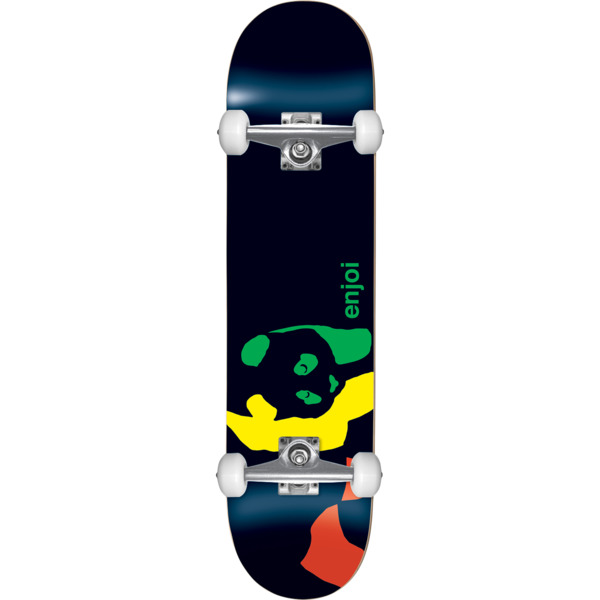 If you're on the hunt for a deep concave board, then you might want to look into the enjoi Skateboards Rasta Panda Complete Skateboard. This board has an excellent deep concave shape. They won't wear down easily.
As with most enjoi skateboards, the Rasta Panda also has a strong, durable deck. While performing tricks, you can kick the tail as hard as you like, and it won't break. Don't be too rough, though, as the deck might start chipping after a while.
Another remarkable feature about this board is the pop. It takes its time to wear down, but the pop is still pretty decent even when it does.
As the nose and the tail of this board is similar, one thing you could do is switch the sides when you notice the pop has begun to wear.
Lastly, this board's graphics are quite impressive, with the enjoi logo panda in red, yellow, and green on the front against a black background.
Pros
Deep concave shape
Impressive graphics
Long-lasting pop
Cons
If too much force is applied, the deck begins to chip away
3. Enjoi Skateboards Complete Panda Vice Blue
Via: Amazon.com
Whether you're a pro skater or a beginner, the enjoi Skateboards Complete Panda Vice Blue is suitable for everyone. Measuring to 8-inches x 31.6-inches, this deck has a resin and maple hybrid construction.
As with all enjoi boards, the Vice Blue also has high-quality aluminum trucks that are durable yet lightweight. The kingpins and axles are made of grade 8 steel.
The 52-mm 99A wheels are perfect for skateboarding at skate parks and streets.
Plus, the wheels have ABEC-5 rating bearings that come with light synthetic oil and Derlin crowns.
This board doesn't come assembled, which means you can customize and assemble the board according to your preferences.
Pros
High-quality aluminum trucks that are durable yet lightweight
ABEC-5 bearings come lubricated
Resin Maple hybrid deck is robust
Cons
The board comes with no instructions on how to assemble
4. Enjoi Beer Run Cruiser Premium Skateboard Complete
Via: Amazon.com
If you prefer cruising over tricking, then the enjoi Beer Run Cruiser Premium Skateboard Complete is a cruiser that might catch your interest. Measuring at 8.5-inches x 31.5-inches, it providers skaters with just the right width to be more comfortable as they skate.
While you can pool, vert, or perform simple tricks, this board is designed specifically to provide skaters with the best cruising experience.
See also: 17+ Good Cruiser Boards in 2022
The 55-mm tensor trucks, along with the 95A wheels, ensure you have a smooth ride.
Moreover, the wheels are shock absorbent. However, this board isn't suitable for skating on cracks or bumpy surfaces.
Pros
Provides just the right width to allow comfortable skating
You can perform simple tricks
55-m tensor trucks and 95A wheels ensure a smooth ride
Cons
Not suitable for skating on cracks and bumpy surfaces
5. Enjoi Logo Crap Resin Complete Skateboard
Via: Amazon.com
Last on our list is the enjoi Logo Crap Resin Complete Skateboard. Made of 7-ply Hardrock maple, this board is put together with the strongest water-based glue.
The carbon steel bearings on this board allow you to ride in speed. In addition, the soft bushings allow you to turn easily around sharp corners. Plus, the Crap Resin has 92A wheels with tensor trucks.
This board is perfect for skaters who are just learning how to skate, giving the right amount of control and speed.
Pros
7-ply Hardrock maple deck is bound with strong water-based glue
Carbon steel bearings provide speed
Soft bearings make it easier to turn
Cons
The brown color of the deck is unflattering
Conclusion
After our thorough review of enjoi Skateboards, you should have a good idea of what the company has to offer. From sturdy skateboard decks to colorful apparel, enjoi offers the best to its customers.
Moreover, given the high-performance and durability of boards like the Enjoi Skateboards Whitey Panda Complete Skateboard, one can safely say that enjoi does live up to its name.
Via: Amazon.com
Related posts: