Element Skateboard Review 2022 – Are They Good Quality Boards?
Skateboarding can be fun and interesting; however, you can only enjoy playing to the fullest if owning a suitable and high-quality skateboard.
That's the reason why spending time doing research about skating brands and choosing an appropriate product is essential. If you still don't know where to begin, this Element skateboard review can help.
Element is the most well-known name in the action sports world. The brand makes high-quality decks and sells full skateboards at reasonable prices. This article will go into details about its skateboards and help you decide if they're a good choice for you.
See also:
Element Skateboard Introduction
Element logo
Element Skateboards was founded in 1992 by Johnny Schillereff as a small joint business called Underworld Element. The subject of Underworld was urban hip-hop culture, fashion, music, and architecture and its target customers were a diverse range of artists.
However, the business encountered serious difficulties and was forced to shut down. Johnny then repositioned the brand with the concept of skateboarding lifestyle under the name Element, focusing mainly on skateboard product development and promotion, and creating a strong team of players.
Since then, Element has relocated to The Branch, a creative space established in California. The company expanded quickly to become one of the world's largest skate and apparel brands.
Element also tells an inspiring story about how it was founded. Its logo, which is a combination of wind, water, fire, and earth, represents the positive spirits. And this unique recognition helps the brand remain stable despite the industry's ups and downs for decades.
Element Skateboard Products
Element supplies technical skate decks as well as complete street skateboards, wheels, trucks, and other accessories. It is also popular with youngsters for their selling outfits.
In this review, we'll take a look at the components of a skateboard that Element offers. Without further ado, let's dive in.
Element Deck Review
Element employs PS Sticks, a famous woodshop in the US., to manufacture its skateboards. With regard to the quality, most skaters consider Element decks to be on par with many luxury brands.
Element also uses the company's Thriftwood and Featherweight technology to create a skateboard in addition to the high-quality materials.
Thriftwood building is an environmentally sustainable method in which the wood layers are not colored to minimize the number of pesticides used and increase recycling. The Featherweight method utilizes thinner layers and better glue, resulting in a lighter deck with greater pop.
Twig technology is the successor of the Featherlight construction approach, which is more lightweight and sleek. The deck is particularly designed for small riders, especially for children or girls.
Element Complete Skateboard Reviews
After long-winded parts explaining to you about the manufacturer, let's take a look at some of its most famous skateboards.
1. Element Section Complete Skateboard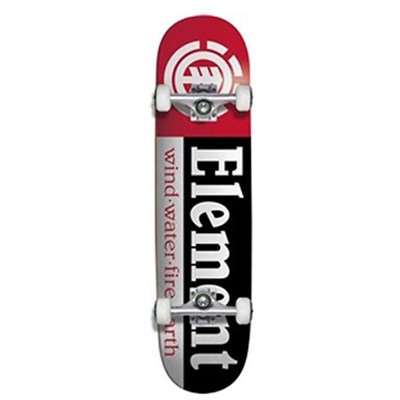 Element Section Complete Skateboard
Via: Evo.com
The Element Section develops the classical design concept with traditional patterns. It embodies a cool red, white and black theme with the Element brand and logo printed on the deck bottom.
This product comes in three sizes, 31.5″ x 7.5″ (14″ wheelbase), 31.5″ x 7.75″ (14″ wheelbase), or 31.75″ x 8″ (14.5″ wheelbase). And its deck is built using the Featherlight construction, which leads to a high-end and durable model.
The wheels have 90A Wht bushings, making them ideal for uneven surfaces, and amateur's skatepark riding. They are easier to turn and have more stability than other tougher ones, but they are not suitable for specialized street tricks.
See also: Buying Guide For The Best Complete Skateboards
2. Element Skateboards Bam Heartagram
Element Skateboards Bam Heartagram
The Bam Margera Heartagram is 32″ long and about 7.5″ wide. This is made from 7-ply premium maple wood with the performance concave for the extra flick.
It is built with Element Core 5′′ aluminum trucks and 52mm printed wheels. You may also opt for a luxury rig with Independent Stage 11 trucks and Ricta Sparx wheels, which are ideal for skateboarding.
There're two colors for you to choose from: black and pink. Additionally, each version has two available sizes: 7.75″ and 8.0″ with all of the necessary components.
3. Element Skateboards Seal
The Element Seal complete skateboard impressed users right at the first place by its sleek and sober black layout on the deck. It also contains the Element logo going together with red lines and the names of the four natural elements.
This deck's art inspires respect and attracts the eye, particularly when ridden by a skillful skater!
Its light and strong deck was made from a 7-ply maple deck with the use of Featherweight technology. The model comes with three sizing options in which the width of the deck ranges from 7.5′′ to 8′′.
4. Element Skateboard Feathers
Element Skateboard Feathers
You may notice that the most striking feature of Element skateboards is the design, with the Element Feathers by far being an outlier. It has vibrant colors and three geometric shapes that surround the tail, nose, and wheelbase symmetrically.
The combination of orange, blue, red, and white colors used for the rectangle, circular and triangular patterns provides a lovely overall effect The black line across the deck contributes to the beautiful and energetic visual effect generated by this design.
The Element logo is depicted in a blue circle in the middle of the deck.
This full skateboard is available in the same size as any other Element boards. This means you can pick either 31.25′′x 7.75′′ or 31.25′′x 8′′ floors, 5′′ or 5.25′′ vehicles, and 52mm wheels.
5. Element Skateboard Sylvan
Element Skateboards Sylvan
The Sylvan has a lovely style for a four-color board that includes backgrounds of black, red, blue, and green color shades. The Element logo is layered in white on top of the context of each section.
The smooth concave of the deck allows skaters to ride the board comfortably and flexibly. There are two dimensions to choose from: 31.25′′ x 7.75′′ x 14′′ and 31.75′′ x 8′′ x 14.25′′.
It features the standard 5′′/5.25′′ polished Element trucks and 52mm Element wheels. The item is appropriate for all skill levels, from novice to expert.
See also:
Wheels And Bearings Of The Element Skateboard
The wheels from Element have a measurement ranging from 52mm to 54mm, which makes them safe for tricks and stable for street and park skating. They don't have the characteristics for high-speed performance, but they have an amazing level of balance and constancy.
If you are a professional skater and looking for speed, don't worry! You can opt for other products. The Element also offers product lines with a larger diameter, such as Bug Shit 60mm wheels.
Furthermore, the wheels have a durometer of 99A, which is on a higher scale of hardness. This feature allows you to take the board for a spin on most surfaces as the manufacturer has reduced vibration to a great deal for the sake of safety.
With hard wheels, you can also rest assured that they will not wear out easily and withstand harsh ground conditions.
Amphetamine bearings with an ABEC 5 rating ensure that the wheels roll without friction and spin for a longer period by maintaining speed.
Final words
You've got everything you should know about Element skateboard review to make a solid buying decision. So, what is on your mind now? Whatever you choose, we believe you would benefit from its top-notch products with their outstanding features, such as modern design or simple setup.
Also, the flexibility of the products and the positive attitudes of the brand will definitely win your heart. We hope this post has provided much useful information for every reader here. Thanks for reading! Happy buying!