Top 13 Best Skateboard Helmet Reviews (Most Safe in 2022)
What if we tell you to skateboard without a helmet? You won't.
Although it's entertaining, skateboarding is an adrenaline-pumping sport posing high injury risks. That's why you need safety precautions. Whether you are a professional skateboarder or do it for fun, you must put on the safety gear before taking a ride.
Skateboard helmets are essential safety equipment without which you must never hit the road. WIth so many options in the market, it's tough to find the best skateboard helmet that guarantee safety, value for money, and ease of use.
See also: Best Skateboard Knee Pads || Best Skateboard Elbow Pads || Best Skateboard Wrist Guards
Top 13 Best Skateboard Helmet Reviews 2022
To help you find your fit, we will go through a detailed analysis of a variety of skateboard helmets. Keeping the latest trends and safety features in mind, we have carefully hand-picked the best available products.
We will skim through the pros and cons based on skateboard helmet reviews by the users. Whether you're looking for the safest skateboard helmet or the best-looking one, we have it all.
1. Triple Eight 3037 Dual Certified Bike and Skateboard Helmet
Via: Amazon.com
As the name suggests, this helmet from Triple Eight is dual certified. It meets CPSC and ASTM-1492 standards. It has an ABS shell with an inner lining of impact-absorbing EPS foam to absorb severe shocks. Hence, it is among the safest skateboard helmets.
The Triple Eight 3037 Bike and Skateboard Helmet has a matte finish, and it comes in a variety of colors that make it more appealing to the users. It can be used in multiple sports such as derby, biking, and skateboarding, etc.
The helmet has proper ventilation to keep things fresh. It also has a sweat-saver lining that prevents odors and moisture inside the helmet.
Because of proper moisture management and heat control, longer rides become more manageable, and you don't have to stop to dry your hair now and then.
There is an adjustable chin strap with side release buckle, and there are multiple sizes, ranging from extra small to extra-large. Therefore, it should fit most head sizes.
Pros
Meets safety standards for skateboard and bicycle helmets
High-quality ABS shell is durable and lightweight
Customized fitting
The matte finish makes it appealing to professional skateboarders
Cons
Size chart is not accurate so fitting on the head can be a problem
2. Pro-Tec Skate-and-Skateboarding-Helmets
Via: protecbrand.com
Pro-Tec Classic Cert appears first in our list of best skateboard helmets. It has a trendy look, and you can use it for all sports. The design features a high-impact ABS shell to withstand a severe shock. Hence, this is a certified helmet for protection according to modern standards.
Because of its looks, it is one of the best looking skateboard helmets in the market. It features compression molded pads along with 11 vents to keep your head fresh.
There are adjustable straps that you can secure with buckles. It allows you to adjust the helmet according to the size and shape of the head.
Since it is available in a range of sizes and has vibrant colors, it is one of the best kids' skate helmets.
See also: Top 11 Best Kids Skateboard Helmet in 2022
Pro-Tec has continued its legacy for nearly 50 years. It is one of the best skateboard helmet brands. Therefore, you can trust the product quality and reliability.
Pros
Extra padding makes it easier to adjust with the head size
Light weight allows young skateboarders to keep their balance while riding
Available in multiple colors, so there are several options to choose from
Useful for casual biking because of proper ventilation
Cons
The liner pads tend to wear out every six months
3. JBM Dual Certified Skateboard Helmet
Via: Amazon.com
JBM Dual Certified Skateboard Helmet is a multipurpose product. Whether you are a biker or a skateboarder, this helmet will suffice your needs. This model is designed for kids, so it comes in a variety of vibrant colors.At the moment, it is one of the best kids skateboard helmets going around. Because of its matte-finish, it has a professional appeal.
Therefore, young skateboarders who want to pursue professional skateboarding will like it. Moreover, there are three sizes, i.e., small, medium, and large, to choose from.There is an adjustable strap that makes it usable for both boys and girls.
Protection is guaranteed because of CPSC and ASTM certifications.The outer shell is made of sturdy PVC, while the inner lining is composed of EPS foam that can absorb high impacts.
Multiple vents allow proper airflow inside the helmet, so it becomes more convenient to manage longer rides and practice sessions.JBM is a renowned manufacturer for many years. Therefore, value for money is almost guaranteed with most of their products.
Pros
PVC construction makes it ideal for multi-sport activities
Comes with a storage bag
Multiple vents for sufficient airflow
Mainly designed for kids but sizes fit some adults too
Cons
Strap quality is not the best as they may detach on severe impact
Extra lining for size adjustment is not available
4. Triple Eight Helmet with Sweatsaver Liner
Via: Amazon.com
If you like matte-finish helmets, you will like this one too. The Triple Eight Helmet with Sweatsaver Liner comes in a stylish design making it a fitting option for many sports. It is available in a wide range of colors and sizes to fit most head sizes.
One of the premium features of this helmet is its sweat saver liner. It keeps the helmet stink-free, absorbs all the moisture, and can be easily removed for cleaning.
Also, it has a 360-degree padding to keep your helmet secured on your head. In addition to that, it adds more safety to the skateboarder as well as the helmet.
For airflow inside the helmet, there are proper ventilation holes that keep things fresh while riding. Like most top skateboard helmets, its outer shell has ABS protection that makes it safe for professional use.
Since Triple Eight has been manufacturing skateboard helmets for more than 18 years, most of its products are durable and well-received.
Pros
Available in a wide range of sizes to fit both kids and adults
Removable sweat saver that attaches with hook and loop tape
Moisture-absorbing technology keeps it odor-free
Cons
Doesn't fit round heads properly
5. Razor V-17 Youth Multi-Sport Helmet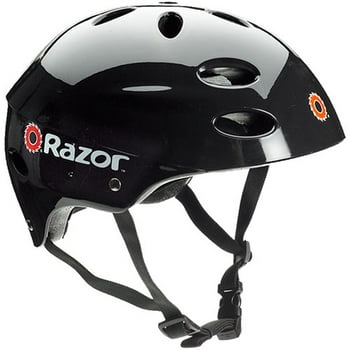 Via: walmart.com
In terms of looks, Razor V-17 Youth Multi-Sport Helmet is one of the best skate helmets on our list. Whether you are biking or skateboarding, this helmet will be there not just for protection but for adding more stylishness to your sport too.
Highly ventilated with 17 vents, this helmet will keep you fresh during long practice sessions. It also features a quick-release side buckle that you can operate with one hand while skateboarding or riding a bike.
The outer shell is made of hard plastic that adheres to CPSC standards. The inner padding ensures both head safety and comfortable adjustment with the head.
As far as the size range is concerned, it ranges from 22 to 23.5 inches. Hence, it is designed for kids who are 8 to 14 years old.
Additionally, there is more internal padding to ensure that the helmet fits properly. It is generously padded to provide maximum skull protection.
Pros
One of the best-looking skate helmets, so it makes a perfect gift item for kids
Size chart is more accurate than some of the other brands
17 vents provide comfort in long sessions
Has thicker inner padding compared to other models in the same price range
Cons
Chinstrap doesn't have a fine adjustment so the helmet may shake a bit on smaller heads
The inner lining of foam breaks after frequent usage
6. Punisher Skateboard Pro Series 13-Vent Dual Safety
Via: Amazon.com
The Punisher Skateboard Pro Series 13-Vent helmet is an all-in-one product. It's one of the cool skateboard helmets mainly because of its looks. Backed by all the necessary protection standards, this skateboard will suffice all your skateboarding and biking needs.
Firstly, it has a 13-vent cooling system making it more suitable for longer rides. Secondly, its ABS protection shell meets CPSC-1203 and ASTM F-1492 standards to allow severe impact absorption and head protection.
This helmet comes in vibrant colors with metallic finish protected by a UV sticker to prevent color fading. Hence, the helmet preserves the looks, looking new and shiny all the time.
Good skateboard helmets always have size adjustability. Thanks to the adjustable chin strap and 3-heat sealed removable padding; this helmet can fit any head size. The chin straps are designed to quickly out on and off.
Pros
Dual safety standards ensure maximum protection
Vibrant colors with UV protection will preserve its trendy looks
Doesn't wobble around and fits securely on the head
3-heat sealed removable padding for snug fit
Cons
Durability is a question because of the material quality
Lining separates from the shell in a couple of weeks
7. Triple Eight Downhill Racer Helmet
Via: Amazon.com
From the looks, this helmet is much different from the other models that we have discussed until now. The Downhill Racer Helmet from Triple Eight is completely covered, featuring a shatter-resistant flip-up visor.
This helmet meets the CPSC 1203 and ASTM-1492 standards. The shell is made of fiberglass with an attractive air resistant design. Because it is mainly designed for bikers, there is an element of extra protection for skateboarders.
Also, it comes with extra padding for size adjustment. The extra padding becomes important for secure positioning on the head as there is only one standard size available.
The inner lining is made of EPS foam with velvet lining. Therefore, it helps in absorbing the sweat while you're on the go.
Although it is not the lightest skateboard helmet, its aerodynamic design helps downhill racers without any reduction in their speed. It's ideal for not only skateboarders but bikers and roller-skaters as well.
Pros
EPS foam helps absorb sweat
The fully covered design keeps you comfortable during cold weather
The shatter-resistant visor is easy to replace
Guarantees high-speed performance because of aerodynamic design
Cons
Face visor reduces air supply to the head
One size can't fit all heads
8. Pro-Rider Classic Bike & Skate Helmet
Via: Amazon.com
Pro-Rider Classic Bike & Skate Helmet is an example of a classic bike helmet that can be used for skateboarding as well. From the outset, it looks like a sturdy helmet that can resist severe shocks. Surprisingly, it only complies with CPSC standards for helmet safety. You're not getting ASTM certification with this one.The outer shell is made of a hard material—the interior consists of polyester padding and straps for size adjustment.
There are eight ventilation holes to allow air passage during rides.For proper size adjustment, additional padding is also available. The size range is quite extensive, starting from extra small that can even fit 3-year-old kids, and going up to extra-large.
From the looks, it's pretty similar to those cool skateboard helmets from the '90s. It has a glossy finish and a classic bicycle helmet design. It is available in a variety of colors, so it appeals to people of all ages.Pro-Rider mostly manufactures professional-grade equipment. Therefore, this helmet can be a high starting point for professional bikers and skateboarders.
Pros
Quick-release polyester straps make it more convenient to wear and take off the helmet
The robust outer shell resists high impact without any scratches on the surface
Additional padding makes size adjustment easier
Covers the forehead, so it's a safe design for kids
Cons
The inside isn't deep enough, so it may sit on the head
The shape is too round for an average head, so it doesn't fit properly
9. Retrospec CM-1 Classic Commuter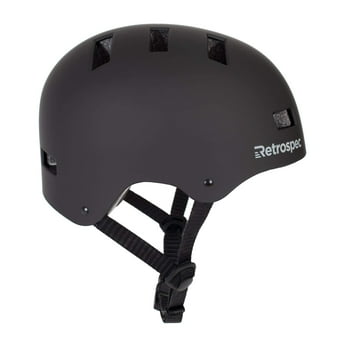 Via: walmart.com
If you prioritize certifications and safety standards, then Retrospec CM-1 Classic Commuter is the right skateboard helmet for you. This model is certified and approved for biking, skating, and skiing.
These standards include STM F2040-11, ASTM F1446, CPSC 16 CFR Part 1203, EN 1077, and EN 1078.
The helmet's outer shell is made of ABS quality material. The inner head protection is made of EPS foam. You get two sets of pads that you can use sequentially for both safety and size adjustment.
There are eight vents to allow for optimum cooling during hot days. Proper ventilation also keeps it dry and fresh, so you don't have to squeeze-dry the helmets' inner lining.
The helmet features a matte finish, which gives it a sleek and stylish look. Also, it comes in various colors.
It is designed for people older than 14 years, so it's an ideal product for professional sports. There are three sizing options, so it will seamlessly fit most adult heads.
Razor V-17 lies in the lower half of the skateboard helmet price range. Also, it has several safety certifications making it a durable option in the longer run.
Pros
Multiple certifications makes it an all-in-one sports gear
Interchangeable pads increase the durability of the helmet
Eight vents for optimum cooling inside
Precise measurements and size accuracy
Cons
ABS shell feels a bit heavy on the head
EPS padding can give trouble fixing the helmet on bigger heads
10. Flybar Skateboard Helmet
Via: Amazon.com
This helmet features in the lower price range, which makes it an ideal option for starters. It's a multi-sport helmet meant for biking, skateboarding and roller skating, etc.Flybar Skateboard Helmets are dual certified. They comply with CPSC and ASTM safety standards. Hence, protection is pretty much guaranteed.
It's an ideal skate helmet for high-speed applications such as professional skateboarding and roller skating, etc. Ensuring safety during high-speed rides, the helmet has a sturdy ABS outer shell and an inner EPS foam lining that makes it highly resistant to sudden shocks and substantial impacts.
One of the best things about this helmet is the range of choices. There are nine different colors available and multiple designs to choose from. You can have a custom-printed design or a plain matte-finish single-colored helmet.
There are three standard sizes to choose from. The skate helmet features a quick-release chin strap along with a spin dial adjustment knob at the back for fine adjustment.
In addition to stylish colors and designs, there are 12 stylish vents at the rear and top to make it easier for riders on hot practice days. As there are a sufficient number of vents, you can use the vent holes to mount a small light facing front for night-time skateboarding adventures.
Pros
Plain or printed design outer shell options
Substantial shock absorption makes it useful for high-speed sporting activities
Padded chin strap along with spin-dial for size adjustment
Bigger vent holes to ensure better airflow
Cons
Straps wear out sooner than normal
Plastic shell quality is not the best
11. Punisher Skateboards 11-Vent Multi-Sport Skateboard
Via: Amazon.com
For all the ladies who love skateboarding and biking, this is an exceptionally designed helmet. If we keep other features aside, the looks alone are intriguing enough to lure you into buying this helmet.
Coming from one of the best skateboard helmet brands, the Punisher Skateboards Multi-Sport Helmet is one to look out for. The company is well-known for manufacturing awe-inspiring helmets, and this model is a proof for it.
Apart from an attractive outlook, there is an adjustable chin strap to allow the proper size adjustment for the users above five years of age. It's available in a variety of vibrant colors creating a strong appeal to young girls.
The outer body is made of ABS plastic while the inner lining is made of EPS foam. The helmet complies with CPSC safety standards. It's an 11-vent design to keep your head fresh while biking or skateboarding.
This model has a Butterfly Jive style that features a multi-colored outer shell. There is extra inner padding for a comfortable fit. Smart and attractive looks and accurate fitting lets girls make a style statement of their own.
Pros
Multiple color options in chin straps
Looks cute so it's a suitable birthday gift for your little girl
Available in multiple styles, such as Cherry blossom, Anime, Jinx, etc
Inner-protection is equally efficient as the looks.
Cons
The outer shell tends to melt at high temperature
12. Bern – Watts Helmet
Via: Amazon.com
When it comes to safety standards and certifications, this is one of the best skate helmets in the market. The Watts helmet by Bern has a stylish design, which is why it's also one of the best looking skateboard helmets in our list.
This helmet comes in two sizes and fits head sizes of 22.5 – 24 inches. It features an intricately designed ABS protection outer shell. The inner lining is made of thin-shell EPS to allow for low profile fit.
The front of the helmet has a hard visor, and there are enough ventilation options to maintain body temperature during any biking or skateboarding activity.
For size adjustment, there is a crank fit dial given at the back of the helmet. Therefore, you can adjust your helmet with one hand.
The helmet comes in with a black matte-finish giving it a graceful yet sporty look. Also, the helmet protects your skull and brain from severe injuries.
Hence, it is an excellent option for both professionals and hobbyist skateboarders.
Pros
Multiple certifications such as CPSC, ASTM F 2040, and EN 1078 ensure high-quality protection
Comes with a Separate winter upgrade kit
The removable inner lining makes it easier to clean the sweat stains
Comfortable and light-weight design, thanks to thin shell EPS foam
Cons
Larger sizes don't fit unless you remove the padding
Low profile fit may cause the visor to block the front view
13. Krash! Youth 8+ Mohawk Helmet – Cool skateboard Helmets
Via: Amazon.com
If you like to make bold fashion statements with your sports accessories, this may be just the right helmet for you. It has a matte finish with an accessorized outer shell. In terms of uniqueness of design, this is one of the cool skateboard helmets right now.
If your kid's a daredevil who likes adventurous sport, Krash! Youth 8+ Mohawk Helmet is the best option. It's styled for skateboarding and biking, in particular.
From the design perspective, it is an ideal option for kids. It has a spiky design with spikes running to the back of the helmet. These spikes are made of a rubber-like material, so they won't pinch or harm while the helmet is not used.
Apart from a different look, spikes also provide an extra cushion during a collision or high impact. This helmet is designed for users aged five and above, and complies with safety standards such as CPSC and ASTM.
The color scheme is very attractive featuring vibrant inner padding and a cool darker shade on the outside. There are enough air vents to promote the proper passage of air.
Pros
Has a unique 'daredevil' look
Complies with dual safety standards
Extra 'Spikes' offer added protection for children
Has a molded 3D design
Cons
There is no chin clamp
Outer spikes may become crooked after some time
Best Skateboard Helmets Buying Guide
Now that you have seen our picks for best skateboard helmets 2022, it must be more comfortable to detect a general pattern when it comes to features of these products.
However, because there are so many brands and products available, it is easy for new buyers to get confused while buying these products.
To help you understand the core elements of a skate helmet, we will discuss some essential features to help you make better decisions for your next skateboard helmet.
Proper Investment
Unfortunately, a good percentage of buyers don't know the value of a skateboard helmet. Many treat it as just another sports accessory, while it is something that your life depends on. Hence you must be ready to spend a few extra bucks for it.
Safety Features
The main objective of the helmet is to provide safety when needed. In case of a fall, looks won't protect you. Therefore, give safety and construction a priority over style.
Good skateboard helmets are made of hard outer shells to provide better protection. The inner shell must have thick rubber padding.
Top helmet brands will always have safety certifications that are mentioned as a product feature. Therefore, your helmet must come with at least basic approvals and certification to ensure sufficient protection.
See also: Top 10 Best Skateboard Protective Gear in 2022
Size and Fitting
If the helmet wobbles on your head, you can never correctly concentrate on the task at hand. The correct size of the helmet is another important feature when you buy a helmet.
If you want the best fit, you must carefully measure your head size. For this purpose, use a soft measuring tape and place one end in the middle of your head. Wrap it around the head vertically, making sure that it covers the chin properly.
Record the measurement and then choose from the available brands. Sometimes, your favored brand may not have the right size for you, so you will have to switch to an alternative.
For more accuracy in size adjustment, extra padding is also available. These removable fittings let you adjust the helmet correctly to the head. Since these paddings are removable, it is easier for you to replace and clean them.
Ventilation
If you look at the helmet safety recommendations, the helmet must be made of hard material. It limits the airflow to the head.
As a result, sweat and moisture are accumulated on the head, causing a distraction to the rider. Also, it becomes inconvenient to ride with a hot head so you will need to take breaks.
However, if there is proper ventilation, it will not be a problem. Best skateboard helmets are designed to provide proper airflow to the head.
When buying a helmet, look for ventilation holes available on the top and either sides of the helmet. Also, there must be an additional lining of sweat savers and wick that absorbs moisture from your head. This way, you can better focus on your ride.
Straps
While extra padding and accurate helmet size allow a proper fit, straps and retention mechanisms keep the helmet secured in one place. Straps allow you to keep the helmet in place while skateboarding on surfaces full of obstacles, and when you're eating or drinking between sessions.
While there are multiple strapping options, forming a V-shape beneath the ears is the best choice. Good skateboard helmets typically include the V-shaped strapping option.
Retention mechanisms are also crucial to save you from much distraction, especially when you are going at a high speed. The retention system allows you to adjust the strap length and to lock or unlock the straps quickly.
For this purpose, the quick-release locks are the ideal choice. Most helmets have this type of locking feature. Many helmets also have an adjustment knob at the back that allows fine-tuning the strap length so that your helmet sits on the head snugly.
Color
Color is an optional feature, but if you are too selective, helmet color can be a bit of a worry. Most brands offer a range of colors for every model.
It mainly depends on what you prefer wearing. However, matte-finish helmets look graceful, and they have a professional feel as well.
Also, you can choose between plain colors and printed designs. It allows you to create a unique style template of your own.
Customized print options are also available, so there is no end to what you can do with these designs.
Know Your Skate Helmet Type
There are multiple types of skateboard helmets in the market. That makes it more convenient for a person to choose according to their preferred type. Here are different types of skateboard helmets:
Mountain Bike Helmet
Mountain bike helmets are ideal for full-face coverage. They protect the head from all sides, so they are most suitable for downhill racing. Even though they are fully covered, you'll get proper ventilation.
Time Trial Helmets
For racing against time, this is the best skate helmet. Its aerodynamic design helps in maintaining speed by countering air resistance.
Kids skateboard helmet
Wiggle has the range of some of the best kids skateboard helmet.
Their products are light-weight, and a variety of sizes give more options to the buyers.
Multi-purpose Road Helmets
These are general-purpose helmets. They can be used for multiple sports such as skateboarding, biking, and roller skating.
Extreme Sport Full Face Helmets
If you're into extreme sports, this is the right helmet for you. This helmet type offers full face protection, leaving no chance for any part of the face hitting the ground.
FAQs
New to skateboard helmets? Reading this far must have provided you with ample knowledge. However, it's okay to have specific queries of your own.
We will now look at some of the questions commonly asked by new buyers. It will give you a better understanding of the product.
Do I need a helmet for skateboarding?
Yes, you may be an experienced skateboarder. However, there is no point in risking your life.
Everyone is bound to take a hit or two. Therefore, professional skateboarders emphasize the importance of safety gear and are willing to pay extra bucks.
Still, there is a good percentage of people who don't use helmets. However, because of so many products available in all price ranges, they are gradually shifting towards safety gear. It also encourages them to try skateboarding stunts.
If you are a beginner or buying a skateboard for your kid, make sure to buy a safety helmet. Other than preventing high-impact injuries, this will promote safety habits as well. Remember to buy a certified helmet from well-known brands. That way, you can make sure you or your kid are fully protected.
What helmet do pro-skateboarders wear?
Most helmets are designed for specific sports. If you are a skateboarder, make sure that you are using a skateboarding helmet and not an ordinary one.
Pro-skateboarders focus on specialized skateboarding helmets. It is because they are designed according to the sport.
For professional skateboarders, safety is the priority, so they always wear safety compliant helmets. Non-compliant helmets may be durable, but there is no guarantee to back it up.
In this regard, Pro-Tec is a reliable name that manufactures high-quality skateboard helmets. These helmets comply with national safety standards. Hence, there is guaranteed protection.
Is it lame to wear a helmet skateboarding?
If this question pops up in your mind, you must know that it is better to survive an accident with a bulky helmet than to hit the road head-first without protection.
So first of all, it's not lame to wear a skateboarding helmet; otherwise, they won't be selling at $40. Secondly, they look stylish.
That said, some people think skateboarding without a helmet is bravery. We call it ignorance towards your life and loved ones. You never know when you may take your next hit.
Many professional skateboarders have faced severe injuries even while wearing protection, let alone not wearing safety gear at all. Therefore, ignoring a helmet can be lame, but wearing it, certainly isn't.
What size of skate helmet do I need?
Firstly, you must know your head size. Once you know the exact measurements, it will be easier to select the right fit. Moreover, most top brands have their size charts. These charts may vary from brand to brand because of the variation in size ranges.
Generally, size charts start from extra small, which measures around 21 inches to double extra-large measuring about 25.5 inches.
Some brands specialize in helmets for kids, while others produce the best skateboard helmet for adults. Therefore, you must be sure about your head size. Only then will you be able to select a brand that provides the perfect fit.
Conclusion
Helmet safety is a crucial factor when it comes to skateboarding. No matter how fast or slow you ride, accidents can happen anywhere.
In this respect, proper safety gear can be the difference between life and death. Therefore, you must be well-prepared for any mishap.
Skateboard helmets are primarily meant for safety. However, there are many unique, stylish designs and attractive features available. Hence, you can ensure safety while looking trendy too.
We hope that our compiled list of skateboard helmets has helped you narrow your search. We've covered a wide variety based on safety features, style, or comfort, so you'll have multiple options to choose from.
Now that you know all about skateboard helmets, we wish you luck getting the best one.