Top 9 Best Skateboard Elbow Pads [Updated 2022]
Who doesn't like skating? No one.
Safety and protective gears are an essential aspect of skating. Don't worry, as we will review the best skateboard elbow pads in the following guide.
All of us want to enjoy riding skateboards freely in open streets on a breezy day. It seems to be one of the most organic transportation, which is also more fun and exciting.
However, this free skating's excitement may sometimes cause bruises or scratches in case of an accidental fall.
It's better to invest in buying affordable yet good quality elbow pads to avoid such a situation.
Read along to find out more about elbow pads and their features.
See also: Best Skateboard Helmets || Best Wrist Guards For Skateboarding || Best Skateboard Knee Pads
Top 9 Best Skateboard Elbow Pads in 2022
1. Triple 8 EP 55 Elbow Pads
Via: Amazon.com
The Triple 8 EP Elbow Pads ensure ultimate protection by providing top-notch cushioning to the elbows.
They are designed by Triple 8, a well-reputed company manufacturing skateboard gadgets for the past 20 years.
Keeping in view the rider's comfort, they are made with 50 percent nylon, 30 percent polyester, 10 percent PP plastic, and 10 percent elastic.
The above combination keeps the sleeve cool as well as breathable.
An elastic band at the bottom and an adjustable strap at the bottom ensures perfect fitting and comfort. Moreover, the straps keep the pads in position, preventing them from slipping off during riding.
They come with heavy-duty EVA foam to provide extra cushioning to the elbows than the regular ones. The foam is then contoured in a cup shape to increase flexibility.
After that, the foam is then protected with high-density plastic caps, which are resistant to impact.
The caps are attached to the elbow guards with reinforced rivets to enhance durability and stability.
The caps aren't shaped in the form of a cup; instead, they are kept flat to increase stability and longevity.
They feature a Lycra sleeve, which perfectly fits the elbow to provide the desired support.
Pros
Available in different sizes to guarantee a perfect fitting
Comes with heavy-duty EVA padding
Includes a high-density cap to absorb impact
2. G-Form Elbow Pro-X Pads
Via: Amazon.com
The G-Form Elbow Pro-X Pads are low-profile and compact guards with signature G-Foam, known as 'second-skin' fit. They simply slide over your arms without adding extra weight.
These protective guards feature Reactive Protection Technology (RPT) pads made of soft foam. The best thing is that the foam molecules become hard upon impact, thus absorbing 90 percent of the effect.
Do you know they perform much better than the hard-plastic protective shell? They are more flexible and less bulky, thus giving you more freedom of movement.
They incorporate dual-axis technology to support the arm movement.
They are made with breathable and moisture-wicking compression multi-functional fabric. First, it perfectly fits the elbow, and second, it keeps the skin underneath dry.
Not only that, the fabric reshapes according to the movement, thus enhancing overall comfort.
Moreover, they come in six different styles/colors and 11 sizes ranging from youth small to XXL.
These pads are machine washable, thus saving your time and effort while hand washing them.
Not only that, they don't break or become brittle over time, thus guaranteeing you a long-term investment.
Pros
Features second-skin fitting
Available in six color options
The Reactive Protection Technology (RPT) absorbs 90 percent impact
3. JBM Adult/Child Knee Pads Elbow Pads
Via: Amazon.com
As the name suggests, the JBM Adult/Child Knee Pads Elbow Pads are multi-functional guards to protect knees and elbows.
They are made with high-quality and sturdy PP plastic and PE foam to provide protection. The breathable polyester sleeve fits perfectly around the elbow, keeping the skin underneath dry.
Not only that, the elastic straps are adjustable to fit both adults and kids.
They are made with soft EVA padded material to enhance comfort during skating.
The padded material is further protected with rigid plastic plates. The plates absorb a majority of the impact and safeguard elbows from cuts, bruises, and wounds.
The elastic straps, coupled with Velcro closures, secure fitting for different elbow griths.
There is one downside, and that's the size. The elbow pads are only available in one size, which may seem to be a major turn down for some people.
That is why they include flexible straps to fit different elbow sizes, and it does seem to suffice the fitting requirement. But other than that, they are available in only one standard size.
Pros
Multiple adjustable straps
Velcro closures ensure a snug fit
Plastic plates enhance protection
Comes with one year warranty
Cons
Rigid plastic plates reduce mobility
4. Bodyprox Elbow Protection Pads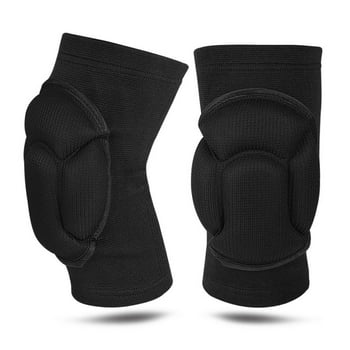 Via: walmart.com
The Bodyprox Elbow Protection Pads serve as multi-functional guards to support and protect the extended elbow area.
They cover more elbow area stretching over most of the arm instead of just covering the elbow.
The pads are entirely lined with a high-density foam grid that protects and supports the arm and elbow's vital areas.
The strengthened foam couple with lightweight fabric makes it one of the best skateboard elbow pads.
The best thing is that these pads feature a unisex design suitable for both girls and boys.
They are made with abrasion-resistant material, which minimizes the impact of a fall. Not only that, it's durable enough to withstand rough surfaces.
However, the downside is that they seem to be a bit chunkier than the rest. The elbow pads are more extended in length.
Moreover, they don't come with moisture management technology, making you sweaty if skating on a hot sunny day.
Pros
Strategically-placed foam grid enhances protection
Provides wide arm protection
Also provides pain relief
Available in three sizes: small, medium, and large
Cons
The absence of moisture management feature makes you sweaty
5. Triple 8 Covert Elbow Pads
Via: triple8.com
The Triple 8 Covert Elbow Pads are the most compact and slim compared to the guards discussed above.
They feature a pull-on elastic sleeve to fit the elbow-length perfectly.
The EVA padding performs dual-functionality to support and protect the elbows.
By the way, these elbow pads are perfect for young kids aged five and above.
Another advantage of the sleek design is convenient wearability under the clothes.
They are incredibly lightweight with a total weight of 1.6 ounces, making them barely noticeable while wearing.
Pros
The slim-fit design prevents falling
Lightweight and comfortable
Comes with EVA padding to absorb shock
Available in three sizes
Cons
Stitching falls apart after some time
6. Pro-Tec Street Knee and Elbow Pad Set
Via: Amazon.com
As the name indicates, the Pro-Tec Street Knee and Elbow Pad Set feature a dual functionality to serve as both knee and elbow pads.
By their looks, they are old-school pads similar to the ones owned by most of us as kids.
However, don't confuse their functionality to be outdated as well.
They include an old-school EVA plastic plate on the outside to withstand any kind of impact or fall.
While on the inside, they are lined with neoprene to wrap comfortably around the elbows.
The soft cup-shaped foam not only protects the elbow but also absorbs the impact. Moreover, the breathable material doesn't let you sweat and keeps the skin dry even during a hot day.
Coupled with neoprene lining, the plastic plate makes a perfect combination to protect you from getting hurt in an accidental crash.
They include a wrap hook and a loop fastener mechanism allowing you to tighten them with the two additional Velcro straps.
These straps make Protec an apt choice for all kinds of ages ranging from kids to adults.
Not only that, but they also come in different sizes, starting from Youth to Extra-large.
Pros
Dual functionality to serve as knee and elbow pads
Comfortable neoprene interior provides flexibility
Includes adjustable straps to fit different sizes
Comes in five sizes from Youth to XL
Breathable material prevents sweating
Cons
Quite old-school design
Seems to be chunkier
7. Smith Safety Gear Elite Elbow Pads
Via: Amazon.com
The Smith Safety Gear Elite Elbow Pads provide ultimate elbow protection and support.
Available in a variety of colors and patterns, these pads are made to reflect the rider's personality.
You don't need to worry about the foul odor or sweat build up because these pads are washable. They don't become brittle or deteriorate with time.
The unique foam enclosed by the plastic cup-shaped pads ensure flexibility and contouring around the elbow, protecting it from scratches or bruises.
They feature open back butterfly straps, which can easily be adjustable to ensure a snug fit.
Moreover, they come with neoprene velcro closures to enhance fitting and comfort.
Pros
Available in a variety of colors and sizes
Comes with adjustable straps to prevent slipping
Washable pads
Cons
Doesn't provide standard sizing
8. BOSONER Kids/Youth Knee Pad Elbow Pads
Via: bosonerstore.com
As the name suggests, the BOSONER Kids/Youth Knee pad Elbow Pads are designed, especially considering the kid's protection and safety during skating.
They incorporate adjustable elastic straps and extended velcro closures.
Moreover, the EVA memory foam ensures proper ventilation to prevent sweat during a hot day.
By the way, the pads make a compression to the body to enhance safety. Some kids may find the compression a bit uncomfortable at first and then get used to it.
The compression is necessary to keep the elbow in the right position while skating.
They feature shock-absorbing material to enhance safety.
Not only that, they come with quite a stylish design which is quite attractive to kids.
They come only in two sizes – Small size is for 3-7 years old children while medium size is for 6 – 15 years old.
Pros
Shock-absorbing material
Recommended for kids
Comes in vibrant colors
EVA foam prevents sweating
Cons
Compression foam may seem uncomfortable
Comes only in two standard sizes
9. Triple Eight Saver Series Pad Set
Via: Amazon.com
The Triple Eight Saver Series Pad Set is made with a high-quality fabric sleeve and EVA foam padding.
The padding is then protected with a breathable fabric. The fabric is flexible to fit any elbow size.
Not only that, it keeps the skin drywall day long irrespective of how high the temperature goes.
The best thing is that all the components are comfortable and soft and don't cause any irritation or blisters.
They feature wide and reinforced elastic straps allowing you to fit the elbow pads according to your elbow size. Moreover, the straps keep the pads in the required place, thus preventing them from slipping away.
They are available in four sizes – three for adults and one junior size.
By the way, only one junior size restricts the option for kids.
Pros
Heavy-duty memory EVA foam
Impact-resistant cap
Ensure proper airflow to keep skin dry
Cons
The comparatively larger outer shell
Only one standard size option for kids
Choosing the Best Skateboard Elbow Pads: Buyer's Guide
The composition of a good quality elbow pad comprises foam covered by a plastic cap and a stretchable fabric to support the elbow.
The padding, along with the cap, encapsulates the elbow while the fabric ensures flexibility.
Not to mention that perspiration prevention and ventilation are essential functions of both the padding and fabric.
It's essential to keep in mind the following variables to gauge elbow pads' performance and quality.
Material
The best elbow pads for skateboarding are made of Ballistic Nylon to secure riding on type of terrain.
Security of the elbow doesn't mean to go for massive pads which restrict its movement. The cushions shouldn't be massive to hinder the ergonomics of the boards.
Some elbow pads are made with polyester, which is more versatile. On the other hand, some use a fabric blend with chiffon to add to the pad's breathability.
The best skate elbow pads incorporate a high thickness plastic shell connected to the interior cushioning with a fortified bolt.
In this way, plastic shells add to the overall elbow protection without occupying more space around.
By the way, many brands incorporate D30 or SmartFlex technology, which makes the elbow pads even more hard in case of a fall to protect the elbow.
Quality
Are you wondering if elbow pads can provide 100 percent protection?
Of course, you are. You'll find the answer here because it entirely depends upon durability and quality.
What if they are flimsy or don't last long enough?
As discussed earlier, most of the best elbow pads for skateboarding are made of Nylon, which is known for its durability.
Type of Padding
The next thing to check while elbow pad shopping is the type of foam. For instance, a high-density foam keeps the rest of the materials in place.
The majority of the elbow pads come with single padding for elbow protection; however, it's better to opt for guards with extra padding or even hard plastic shells in case of additional security.
But there is a downside to using hard plastic shells because they restrict movement.
On the other hand, stretchable padded guards offer both flexibility and protection.
If the priority is breathability, it's better to go for compression fabric or perforated pads.
Budget
Obviously! The main idea is to invest in good quality elbow pads sensibly.
However, it's majorly dependent on the skating requirement.
It's better for frequent skating to go for premium quality elbow pads, which are expensive.
But in case of a beginner or infrequent use, you can easily find moderate quality elbow pads at a reasonable price.
Generally, the price varies between $25 and $70, depending upon the features and brand.
Size
Yes, the size of the user matters!
You need to consult the size chart before buying one.
The primary purpose of elbow pads is to cover and protect your bones if any accidental fall or wipeout happens. If your elbow pads are too loose, they won't be able to serve the intended purpose. Right?
Some elbow guards are similar to compression sleeves with adjustable straps to ensure snugger fit.
On the other hand, other guards come with silicone grips to restrict the pads from moving around the arm.
But again, the elbow pads shouldn't be too tight to restrict blood circulation.
Elbow pads are usually divided into the following sizes:
Small – 7 – 8 inches
Medium – 9 – 10 inches
Large – 11-12 inches
Weight
The elbow pads are generally divided into the following categories based on the user's weight:
Small – For less than 125 lbs
Medium – Between 125 – 150 lbs
Skateboard Elbow Pads FAQs
Is It Necessary to Wear Elbow Pads While Skating?
Absolutely!
Many people take elbow pads for granted. Wearing a helmet and knee pads doesn't ensure 100 percent protection in case of a fall.
People usually try to support themselves with the help of their arm or elbow during any fall. That is why elbow injuries are quite common.
Most importantly, skating is a risky sport that requires balance during riding, even at a slow speed. You don't want to slam your elbow on the ground or scrape it.
Do you know what the most common injury is in the skateboarding community?
It's called Swellbow, medically known as olecranon bursitis. It causes inflammation when the tip of the elbow bone hits the ground.
In severe cases, the area becomes susceptible to infection if the liquid fills under the skin.
The best way to prevent such kinds of injuries is to wear elbow pads.
See also: Top 10 Best Skateboard Protection in 2022
How Do Elbow Pads Ensure Protection?
They are made with foam, which serves as protective cushions around the arm.
The foam is then covered with a flexible yet stiff fabric that protects the ara around the elbow.
Elbow pads are available in different varieties such as Nylon, Polyester, or plastic shells.
Plastic shells add to the overall protection. But, the hardness of the material somehow restricts the arm movement.
How to Choose Between a Thick or a Slim Elbow Pad?
Well, it entirely depends upon personal preference.
In case you are a beginner and too scared to get injured, it's better to opt for a thick elbow pad.
However, if you are a professional and want to enjoy the freedom of motion and flexibility, you can quickly go for a slim elbow pad.
Just an added advice, it's better to opt for a tick elbow pad if you intend to ride an electric skateboard.
How to Wear Elbow Pads?
Just like other safety equipment, elbow pads should perfectly fit the elbow.
However, in loose-fitting, they'll gradually slip around and won't provide the desired protection.
If they are too tight, they'll cut off the blood circulation and restrict the elbow movement, thus causing more harm than good.
You can select the size of the elbow pad in the chart shared above. All you need is to measure your elbow size with the help of a measuring tape.
After putting on the elbow guard, it's better to move the arm and bend the elbow to check the flexibility and breathability.
Do You Need Additional Protective Gear Other Than Elbow Pads?
Yes.
As discussed earlier, skating is a risky sport that exposes all your body parts to injury in case of an accidental fall.
Wearing a helmet, knee pads, and wrist pads is a must in addition to the elbow pads.
It's better to spend an additional amount on buying protective gear than spending money on medical bills. Right?
Conclusion
To sum up, the best skateboard elbow pads are a perfect combination of durability, comfort, and flexibility. Not to mention, they protect brushes and scratches by reducing the fall's impact.
Our recommendation goes to the Triple 8 EP 55 Elbow Pads with its comfortable contoured cushioning to protect and support the elbows.
Via: Amazon.com
Firstly, they are designed by a reliable skateboard gear manufacturer Triple 8. Second, it provides freedom of movement while keeping the elbow protected by heavy-duty EVA foam.
The plastic caps enhance protection by absorbing the majority of the impact. The best thing is the plastic cap's shape, which is straight to add more to stability and flexibility.
Wearing elbow pads is a must if you want to enjoy skating. They not just protect your elbows but provide them the necessary support while gliding around the street corners.