Top 11 Best Kids Skateboard Helmet Reviews in 2022 – Buying Guide
Do you want your children to skate with safety? If yes, you should buy the best kids skateboard helmet for them! This type of helmet will protect the sensitive parts of their head and reduce injury risks.
However, not all helmets have the same quality. Many low-cost products may be beautiful, but they are less durable and can not protect your kids. That's why it is necessary to check the products when buying.
We have tested multiple products and picked out the top 11 best helmets. You can check out our reviews of them in this article!
See also: Top 12+ Best Skateboard Helmet in 2022
Top 11 Best Kids Skateboard Helmet Reviews 2022
1. Triple Eight LIL 8 3924-P – Best For Fitting
Via: Amazon.com
No matter how big your kid's head is, the Triple Eight LIL 8 3924-P will fit it at best. When unboxing the package, you will get 2 sets of washable Sweatsaver fit pads and an adjustable chin strap, along with the helmet.
This helmet only comes in one size, but the "Pinch Saver" chin strap allows you to loosen or tighten it for the best fit. Also, the Fit Dial system will help the strap hug the wearer's chin closely without hurting it.
There should be no worry about the quality of this skateboarding protection. The helmet has met skating standard ASTM F1492 and cycling standard CPSC.
As you can see in the table above, this product has a heavyweight of 1.54 pounds. Small children may feel tired after using this kids helmet for a long period.
Pros
Pinch Saver chin strap and Fit Dial system for a snug fit
Washable Sweatsaver pads
Dual certification
2. OutdoorMaster Skateboard Cycling Helmet – Best For Breathability
Via: outdoormaster.com
Never worry about sweating during skateboarding! This OutdoorMaster helmet has a great ventilation system to keep your child's head cool and dry at all times.
Have a look at the top part of the helmet! You can easily notice many square holes on it. The manufacturer designs these holes to maximize the amount of airflow getting in and sweating smells getting out the unit.
The linings attached inside the helmet are thick enough to make your kid feel secure and comfortable. After completing the ride, he can remove them from the helmet to wash them. This will help reduce the sweats and bad odor.
We notice that the straps on the sides of this helmet don't provide enough gap. Thus, when your kid wears this item, these straps may rub against its ears.
Pros
Square holes on top for high breathability
Minimizes sweating smells
Thick and soft linings inside for extra comfort
Cons
Straps on helmet sides rubbing against the ears
3. JBM Skateboard Helmet JBM-HM1-S-BK – Best For Sturdy Construction
Via: Amazon.com
If you look for a helmet that is durable and supportive, go for this JBM-HM1-S-BK! Its solid construction definitely will please you at best.
The JBM manufacturers have chosen EPS foam, PVC, and PC to build the outer part of this model. With this design, the helmet will absorb all the impact when your kid takes a fall. Of course, this helmet will not break even after falling from a high distance.
Sturdy build quality does not mean less comfort for the wearer. The helmet features a flexible adjustable strap, allowing your kids to loosen or tighten for a proper fit.
Unfortunately, this JBM only has a certification from CPSC – a standard for bike items. For casual skateboarding, this helmet can protect your kids. If they perform advanced skateboarding skills, you'd better look forASTM-certified items.
Pros
Impact absorption
Long-lasting
Flexible strap for high comfort
Cons
Doesn't support advanced skateboarding skills
4. XJD Kids Bike Helmet – Best For Comfort
Via: Amazon.com
Many low-quality helmets bring discomfort to their users. However, this is not the case with XJD Kids Bike Helmet! The intelligent construction will help your children feel secure and comfortable during the entire riding time.
This helmet's adjustment system offers an adjustable spin dial on the back, along with a double buckle strap. This system allows the helmet to stay fit on your child's head, giving it a secure feeling.
Besides, the breathable pads are placed inside the helmet. They will bring softness around the head while keeping it breathable. After skateboarding, you can remove these pads and wash all the sweat smell away.
Like the previous product, this XJD model is only certified by CPSC and only supports casual riding. If your children use this helmet, please don't give them permission to do advanced skills.
Pros
High secure feeling with an adjustable dial and double buckle strap
Breathable pads for strong ventilation
Removable liner
5. Mongoose MG77927- Best For Tough Boys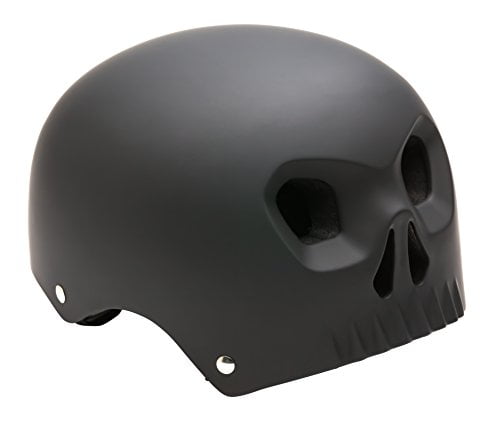 Via: walmart.ca
We recommend this Mongoose MG77927 to all tough boys. The Skull design, along with a firm and sturdy construction, will protect and make your son look cool while performing skateboarding skills.
With the Lifelike Skull style, the helmet will make your son look outstanding on the road. As the entire outer shell is made of hard plastic, this unit will remain beautiful and durable for a long time.
This MG77927 model has met the ASTM F1492 standard for skating items. That's why your child can rely on it for ultimate head protection while doing difficult skateboarding techniques.
We admit that the helmet is slightly large for some children with small heads. However, there is only one size option. So please consider carefully before buying this item.
Pros
Hard plastic for high durability
Attractive Lifelike Skull design
ASTM F1492 certified
Cons
Only one helmet sizing option
6. Triple Eight Gotham 3316 – Best For EPS ConeHead Technology
Via: Amazon.com
We move on to the next product – the Triple Eight Gotham 3316. What makes this item special is the EPS foam lining made of ConeHead technology, offering comfort and safety to the head.
The ConeHead EPS (ASTM and CPSC certified) can absorb and disperse the energy in the event of an impact. Thanks to this feature, your kid will not feel hurt or shocked when getting into accidents.
In addition, the ConeHead liner construction features collapsing cones that can spread the force sideways. With this design, the helmet will be able to protect your child when it does different sports, such as biking, skateboarding, rollerblading, roller skating, commuting, etc.
On the downside, we found the holes on top of the helmet are too small. They will not increase the breathability as well as the holes in other products. So when wearing this helmet on hot days, your child may feel slightly hot.
Pros
Impact absorption
Energy redirecting
CPSC & ASTM certified
7. Razor V-17 Youth Multi-Sport Helmet – Best For Maximum Airflow
Via: Amazon.com
Your kid can feel free to skateboard in summer. The Razor V-17 Youth will maximize the airflow to keep its head cool and dry the entire skating time.
The helmet is built with breathable air vents not only on the top part and the back part but also on 2 sides. This design helps optimize the amount of wind getting into the helmet.
This head protection features 17 ventilation holes in total. Honestly, it is really hard to find another product on the market that offers this great number of vents.
Unfortunately, this Razor V-17 helmet is bigger than its actual size. Even children with big heads may feel loose putting on this item.
However, the manufacturers have given an extra pad, along with the lining attached to the helmet. You can combine these 2 pads to make the interior linings thicker for better fitting.
Pros
17 vents for high breathability
Sweating prevention
Side quick-release buckle for quick adjusting, releasing, and fastening
Cons
Bigger than the claimed size
8. GOTRAX Skateboard Helmet – Best For Sweating Prevention
Via: gotrax.com
The GOTRAX Skateboard Helmet is another good product your kid can wear for skateboarding during the summertime. It is designed with padding technology for cool comfort.
We give a plus point for the contoured pads inside the helmet. They have a great ability to absorb the sweat quickly, keeping the head dry, regardless of the hot temperature outside.
After absorbing the sweat, the helmet will immediately release the bad smells. The cooling ventilation system on the top will provide continuous airflow to reduce the odor.
This product has 3 options for sizes. However, there is no size for adults. If you have a big kid, this GOTRAX may not be the right choice. Hence, it is advisable to find another item with a bigger size.
Pros
Quick sweat absorbent technology
Unpleasant sweaty smell reduction
Dual certification
Cons
No size for big kids or adults
9. Bell Girls Hello Kitty 7074672 – Best For Girls
Via: Amazon.com
In case you are looking for a cute and protective helmet for your little daughter, we recommend this Bell Girls Hello Kitty 7074672. Any little girl is certain to adore the Hello Kitty style at first glance.
The helmet is decorated with the face of a Hello Kitty cat. The manufacturers even add 2 3D ears and a bow on top to make it look like an actual kitty head. Your daughter definitely will love this design!
Of course, besides the fun and charming design, this product still gives maximum comfort and protection to your kids. While the top and rear vents keep the head dry and cool, the robust shell will prevent any impact from damaging your daughter's face.
While this helmet is totally a great option for girls, most young boys might not like this design. Also, the size only supports children under 8 years old. Big kids may not get along well with this item.
Pros
Adorable Hello Kitty design
Top and rear vents for maximum breathability
ASTM and CPSC approved hard shell
Cons
Not suitable for young boys
10. Bell Span Youth Bike Helmet – Best For Safe Coverage
Via: Amazon.com
Do you require a helmet that gives safe coverage? Put your trust in this Bell Span Youth Bike Helmet! The streamlined fit system will help this item stay close to your kid's head.
The system offers a dial adjustment, allowing the helmet to make a tight fit. Both the straps and the linings will hug the face. You don't have to worry about the helmet slipping or moving while your child is skateboarding.
Among the 11 products on this list, this Bell Span model is the safest helmet to buy. It meets 4 standards of ASTM, CPSC, CE, and EN1078!
Therefore, no matter if your child uses this ABS helmet for casual or advanced riding, it will provide high protection against high impacts.
Unfortunately, there are only 2 size options: extra small and small. Big children may not have the opportunity to try this great item!
Pros
The streamlined fit system with dial adjustment for a custom fit
4 certifications
ABS hard plastic shell gives extra protection
Cons
Only small and extra small sizes
11. Triple Eight Little Tricky 3900 – Flexibility
Via: Amazon.com
Regardless of the head size, this Triple Eight Little Tricky 3900 will fit all. We have to give a big compliment to the flexibility of this item.
This cool skateboard helmet comes up with an adjustable strap and a buckle lock. Put this helmet on your child's head, loosen or tighten the strap to find a perfect length, and lock it up. The helmet will then stay close to the head.
There are already thin liners inside the helmet. Yet, if your kid requires a better fit, you can also install the extra liners that come along in the package. Double layers will stabilize the position of the helmet so that it will not slip or fall out when your kid skateboard.
We only have one complaint about the heavyweight of this product.. The weight of 1.55 pounds can strain your child's neck and head on a long ride.
Pros
Adjustable strap and buckle lock for a snug fit
Built-in thin liners and separate thick liners included
Dual certified
Buying Guide For Best Kid Skateboard Helmets
There are several factors you shouldn't overlook when choosing the best youth skateboard helmet for your child. We will explain these factors in this section.
Does The Product Meet The Safety Standard?
A quality skateboarding helmet for kids always comes with helmet safety certifications. Ask the seller to see which standard the product meets.
Here are some trustable certifications you can refer to:
ASTM F1492
The ASTM F1492 is one of the strictest certifications for helmets used in the USAand many other countries around the globe.
The product must withstand multiple physical impacts to meet this standard. In other words, the foam inside the item must protect the entire head when its user falls from a great height.
CPSC
CPSC is a safety standard used for bicycle helmets. However, the requirements are also applicable to skate head protections.
In detail, CPSC contains all the standards in which the protective gear has to withstand light physical impacts.
If your kids only do casual skating, a model with this certification can offer proper protection. However, if they go for difficult skating techniques, such as skating downstairs or down ramps, this standard wouldn't suffice.
CE
CE is a popular certification that you can easily find in most safety products sold in Europe. It guarantees the protective items meet all the minimum safety requirements.
Like the CPSC, CE only confirms that the helmets are good for casual purposes.
EN 1078
EN 1078 is a standard for skating helmets. It accepts all the products that can give protection to the body of the users who are skating.
You rarely find an item with EN 1078 standard in the USA, because this certification is only popular on the UK market.
Is The Helmet Comfortable To Use?
Have you bought many different types of helmets for your children? But they don't want to wear them? Probably, those products are not comfortable enough to use.
A good kid skating helmet should be incredibly firm outside and soft inside. If the product does not provide cushions on the head, your kids will feel heavy to wear it.
Also, the item should have a mesh construction on the inside. It will increase the helmet's breathability in order to reduce all the sweating smells and keep your kid's head cool. This design gives comfort to your kids to skate for a long period.
Don't forget to buy the correct size as well! No kid wants to wear a bulky helmet. That's why it is important to measure the head of your children before making the buying decision.
Does Your Kid Like The Helmet Design?
It is great to find a comfortable helmet that has reliable certifications. But now the question is, do your kids like the design?
Each child has his own favorite color and style. Of course, every kid has a color that it hates as well. Therefore, before taking the plunge, we suggest asking your kids to know which designs they like most.
Frequently Asked Questions
How Do You Choose A Helmet For A Toddler?
A good helmet for a toddler should meet the following criteria:
The head protection should sit level on the head of your kid. It must rest low on the child's forehead. Make sure that it is not titled back.
The bottom edge of the protection must stay similar to the width of 2 fingers above the toddler's eyebrows.
Also, when wearing the helmet, your toddler must be able to hear and see with comfort.
What Size Helmet Do Children Need?
Below, we list the sizes which are suitable to the children at different ages:
Above 2 years old: 48 cm
3 – 5 years old: 51 cm
6 – 10 years old: 53 cm
Above 11 years old: 56 cm
Of course, your kid may have a bigger or smaller head. We still advise you to measure the head of your child to buy the most suitable product.
How Do You Size A Youth Helmet?
It is totally not hard to size a youth helmet. You just need to follow the 2 easy steps below:
Step 1: Wrap a cloth measuring tape around the head of your child. Make sure that the tape stays about 1 inch above the eyebrows and over the ears.
Step 2: Tighten the measuring tape on the head. Read carefully the scale of the tape and you will know which size your child's head is.
See also: Why Don't Skateboarders Wear Helmets – Safety Tips
Can A 2-year-old Kid Wear A Helmet?
Our answer is no. The kids who are 2 years old or younger usually have a weak neck structure. The heaviness of the helmet may cause serious problems or injuries to the neck of them.
What Age Do Youth Helmets Support?
Youth helmets are suitable for people who are from 15 to 24 years old. These types of helmets appear in 3 different sizes, which are:
Small: 52 – 56 cm
Medium: 55 – 59 cm
Large: 58 – 62 cm
Last Words
That's all about our top 11 products that you can totally trust. Have you found the best kids skateboard helmet to buy?
Overall, we highly recommend Triple Eight LIL 8 3924-P. It is the only helmet on the list that managed to meet 4 standards for biking and skating helmets.
Via: Amazon.com
Anyway, we have shared with you all the essential factors that decide a quality product. Look for all of them, and you will find a perfect helmet to keep your child's head safe.
For further questions, please contact us. We will answer you as soon as we can.
Many thanks for reading!