15 Best Cruiser Skateboards (Reviewed & Tested 2022)
Every skater knows that a sturdy, reliable skateboard is necessary to have, especially those that need a cheap way to commute. Cruiser skateboards are known to be some of the smoothest, fastest skateboards out there, particularly for transport.
These days you can buy cruiser skateboards anywhere, but for your convenience, we've listed out the 15 best cruiser skateboards in 2022.
See also: Best Skateboard For Beginners || Best Skateboard Brands || Best Penny Boards
Top 15 Best Cruiser Skateboards To Buy in 2022
Taking into account these three qualities, we've compiled a list of the five best cruiser skateboards that are must-haves for any skater in 2022. These cruiser skateboards will provide an easy commute for any skater, either beginner or pro.
1. Meketec 22-Inch Mini Cruiser Retro Skateboard
Via: Amazon.com
This glitzy, retro-style cruiser skateboard can make a great present for a boy or a girl. For a uniform look, the 22-inch skateboard features a bluish printed deck as well as printed trucks. These trucks do feature a different color, yellow, which is a nice contrast with the rest of the skateboard.
The length of this Meketec skateboard is 22-inch, whereas the width is 5.9 inches. It stands 3.8 inches off the floor, while the tail is 4.75 inches high. The wheels are 60 x 45 mm, with ABEC-7 bearings.
Since it's for kids, it's lightweight, weighing only 3.8 pounds. However, the max weight capacity is 200 pounds. It's pretty safe for kids to ride, as it's also CE certified.
This is good for kids just starting out skateboarding. However, even the kids who have been skateboarding for a while will find this good enough. They can use it in the playground or even commute to school on this.
>> See also: 13+ Best skateboard for kids (Tested in 2022)
The deck is polypropylene (PP), but of good quality. You have the standard anti-slip pattern, which is essential for plastic boards. The materials are durable enough for an adult to ride it, but the size is perhaps too small.
Meketec Retro is one of the top cruiser skateboards for kids. It may be cheap but not cheaply made. This should surely give your kid a few good years, even more, if they don't use it very often.
The wheels match with the deck and the overall look is pretty attractive. The print resembles a bluish celestial theme, resembling space. The quality of the print itself is decent, so it would not wear off even if your kid uses the board almost daily.
Pros
Easy to carry
Smooth 78A wheels
Good value for money
Great for beginners
Quality materials
2. Skatro Mini Cruiser Skateboard
Via: Amazon.com
The Skatro Mini Cruiser Skateboard is made with the company's enhanced flex technology, giving optimum flexibility on every curve and turn.
During the manufacturing process, Skatro employs a specialized machine to tell whether the amount of plastic being used is too much or too little. Consequently, the malleability of the board is much more precise.
This skateboard is a mini-cruiser, meaning that it's shorter and thinner than normal cruiser skateboards. This mini cruiser measures to about 22 inches in length and 6 inches in width. Hence, it's a perfect skateboard for children or teenagers.
Along with 59 mm Urethane wheels, the Skatro Mini Cruiser Skateboard has three-inch aluminum trucks and ABEC 7 Skatro bearings.
The ABEC-7 bearings are made with hard metal to minimize friction while the skateboard is moving. This allows the skateboard to move smoothly at higher speeds.
Moreover, these bearings are also resistant to wear and tear even with time. This is an annoyance faced by many skaters out there. As the skateboard gets older, standard carbon bearings seem to lose their ability to produce smooth rotations.
The Skatro Mini Cruiser has wheels welded in bearing steel, which is far more durable.
Pros
Skatro Ultimate Abec-7 bearings are made of bearing steel which is harder than carbon steel
Available in 22 different colors and prints
Matching T-tool included
Uses Skatro Flexy Technology for optimal flex
Comes assembled
3. Magneto Mini Cruiser Skateboard – Short Board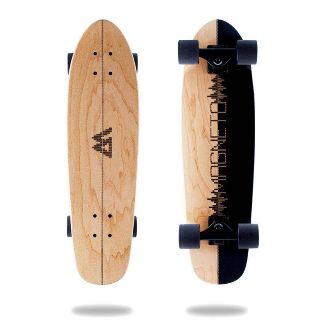 Via: target.com
The Magneto Mini Cruiser Skateboard is a great commuter board. It's size, materials, and ride are perfect for everyday commutes. Kids will love riding this thing to school or sports practices.
The deck is Canadian Maple wood, which you'll find in many other Magneto skateboards as well. It's super high-quality, which means even if you roughly handle it, you'll still get a few good years.
The length and width of the deck are 27.5 inches and 7.5 inches, respectively, while the wheelbase is 18.5 inches.
This mini cruiser board is good for doing tricks like pivots, mannies, ollies, and flips. This is because it features double kicktails. Therefore, it's also one of the best cruiser skateboards for beginners to learn tricks.
See also: 5+ Best Skateboard For Tricks To Learn On
The small size of this cruiser skateboard means it takes less storage space and is easy to carry around. However, it's heavier than most mini cruiser skateboards. It weighs six pounds, mainly because of the wood.
The designs are pretty cool, with an all-wood deck decorated with bold all-black graphics. There are two of them: heartbeat and the shattered lightbulb.
Since the deck is pretty rigid, it provides more stability for the amateur rider. The size, although small, is not that small that someone with no prior skateboard experience would not want to get on. That said, it does offer just enough flexibility to ride it through crowded sidewalks.
The wheels are 60 x 51 mm and made from quality SHR PU material. Magneto skateboards usually have soft wheels, and so does this one. The durometer rating is 78A. Also, the bushings are made of similar PU material.
Pros
Compact size
Double kicktails
Good for tricks as well
High-quality materials
Good for adults too
4. Cal 7 Complete Mini Cruiser Board
Via: Amazon.com
Another mini-cruiser, the Cal 7 Complete Mini Cruiser Board, comes with a compact size of 22.5 inches. The deck has sturdy, durable plastic that gives it a good flex for steep turns.
Moreover, three-inch aluminum trucks join together the ABEC-7 bearings and 60 mm wheels, giving the board faster performance.
You can buy the skateboard with 10 different wheel choices, choosing the one you think will meet your needs. Get the softest, sturdiest wheels for your skateboard if your commute has more rough terrains.
This cruiser skateboard is ideal for all adults and children, especially those who don't have much experience with skateboarding. The premium hardware used to construct the board makes it easier to learn on it.
The hardware is more durable and can withstand more impact, in case of any falls. Moreover, the bold designs are suitable for all genders, both young and old.
Pros
You can add T-tool to loosen the tucks to make it more functional for pros
28 bold color combinations
Superior durability
Easy to carry
Good for both pros and beginners
5. The Quest QT NSC44C Super Cruiser
Via: Amazon.com
The Quest QT NSC44C Super Cruiser has a 44-inch long deck made of maple 7 plywood and artisan bamboo. The maple wood, imported bamboo, and polymers are 100% authentic and provide high flexibility.
There's a simple black graphic accenting the natural grain color of the bamboo, making the board look quite sleek and stylish.
Moreover, the width is standard, the weight capacity is 285 pounds, and the trucks are made of seven-inch aluminum.
The skateboard performs well enough for more advanced skateboarders but still manages to be a good starter board. With ABEC 7 bearings, the cruiser board is not too fast nor too slow.
Quest QT NSC44C Super Cruiser was specifically designed for and tested out at the boardwalks and public transits in California, particularly Malibu and San Diego. If you live in these areas, this cruiser skateboard may be the ideal choice for you.
Pros
One of the longest cruisers available in the market with a 44-inch length
Available in eight different colors
Grit tape included
Made in the US (California)
Fast performance
6. Kryptonics Cruiser Skateboard
Via: Amazon.com
This Kryptonics Cruiser Skateboard has an in-layed bottom. The dimensions of this skateboard are 28 x 8.8 x 3 inches (the last one is its height off the ground).
The deck is made of eight-ply maple wood. Therefore, it's thick and quite sturdy. This is one of the best cruiser boards in terms of shape, as you can control it effortlessly.
The wheels of this skateboard are 60 x 45 mm polyurethane. Similarly, the bearings are also top quality, as it uses ABEC-7 steel bearings. The bushings are 88A soft bushings, so these are soft wheels.
The trucks are six-inch heavy-duty aluminum trucks. This is not for kids under eight years, as it's quite big. Kids over eight, teenagers, and even adults can use it, as it has a weight capacity of 220 pounds.
If you want to ride longboards, this cruiser skateboard can be a good place to start. It's not a longboard itself, but it's big enough to get a feel of it. The 12mm angled riser pads will deliver quite a kick in the speed.
Kryptonics is an old company producing skateboards, so their products are trustable. In fact, they were the ones that changed skateboarding with their polyurethane wheels. This in-lay cruiser skateboard is no different, bringing quality and function is one product.
While the top is all black, the bottom of the skateboard does have a print on it. It's a combination of solid red and leaves in a woody texture backdrop. The PU wheels are also red, which is consistent with the color of the deck.
Pros
Great for cruising
Sturdy deck
Soft longboard wheels
Room to comfortably place your foot
High-quality wheels
Cons
You have to unscrew to get the plastic wrap off
7. Retrospec ZED Bamboo Longboard Skateboard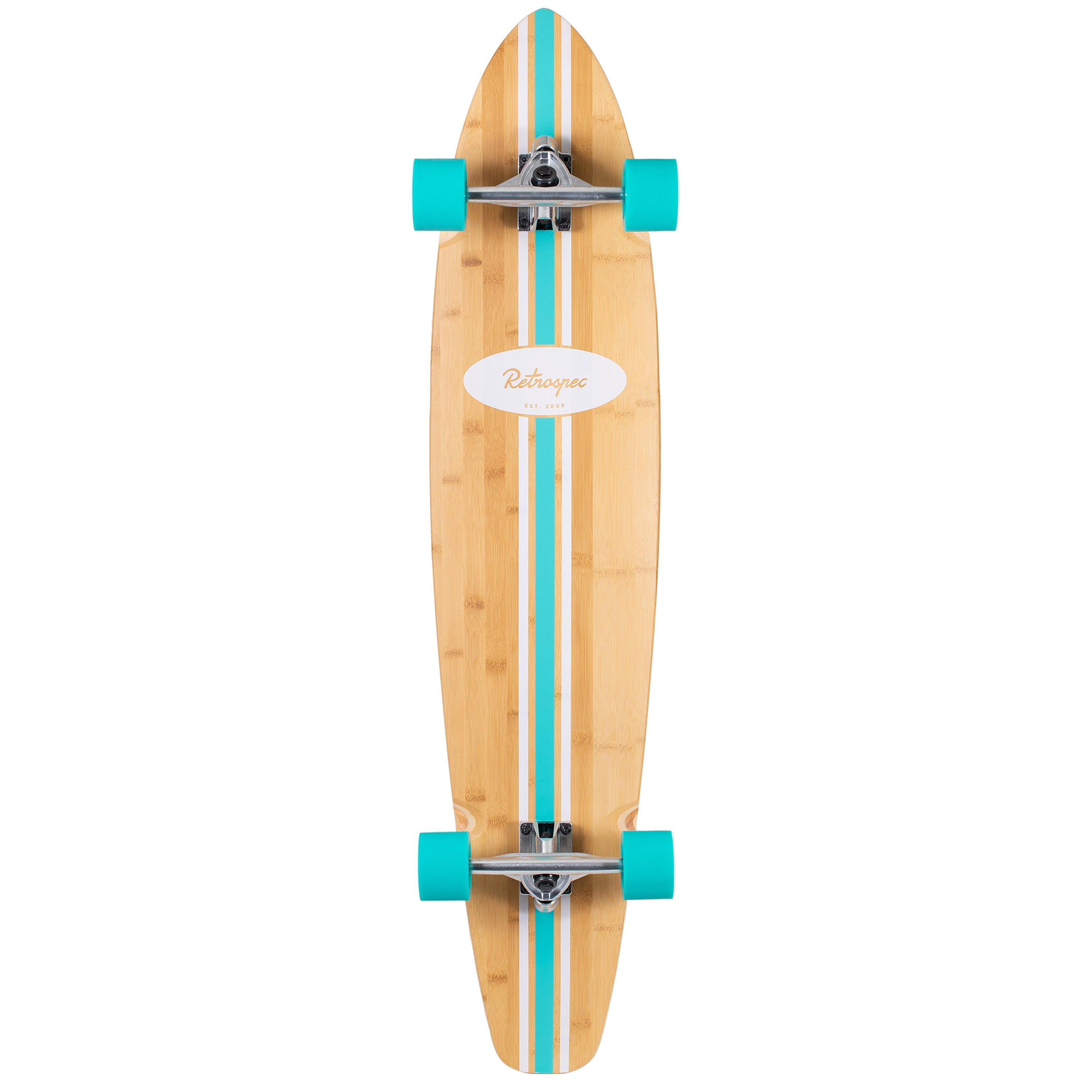 Via: walmart.com
If you're looking for enhanced stability and grip, the Retrospec ZED Bamboo Longboard Skateboard may be the one for you. It's made with 70 mm polyurethane wheels, which are super shock absorbent.
Moreover, it's one of the best cruiser skateboards on the market because the light-stained bamboo and 8-ply maple wood deck are made with recycled wood. This makes the skateboard a risk-free and environmentally friendly purchase.
The bamboo allows the Retrospec ZED skateboard to be more malleable, allowing the skater to run more efficiently in fast-paced situations. With this skateboard, ZED gives you something for both suburban places and public transport systems.
You can easily go cruising with the Retrospec due to its 70 mm PU wheels and lightweight aluminum trucks.
Moreover, the wheels have anti-bite technology. If you don't know, a wheel bite happens when your wheels get stuck rubbing up against your deck. This is highly dangerous as the sudden halt can cause serious injuries among skaters.
The Retrospec ZED cruiser skateboard wheels are milled to minimize the impact of wheel bites, making the board more safe and reliable.
Pros
19 colors and styles available
Comes ready-for-use
Anti-wheel bite technology
Made with recycled wood
Maximum weight capacity is 220 pounds
8. Ridge Skateboards 27″ Cruiser Board
Via: Amazon.com
The Ridge Skateboards 27-inch Cruiser Board has more than 5 inches in length and 1.5 inches in width on regular skateboards. This difference in size allows it to be far more versatile and smooth-running than other similar skateboards.
The 59 mm wheels allow more flexibility and durability on rough pavements, being made of 78A PU. Consequently, you can get this skateboard across any bumps or cracks quite easily.
The Ridge Skateboards Cruiser might be more suitable for learners as it runs more smoothly and is more durable than standard skateboards. The ABEC-7 bearings allow more precision in speed.
Consequently, the skateboarder has more control and stability while trying to learn to use the board.
If you require faster results, you can buy bearings with more advanced ABEC ratings separately. Ridge Skateboards sell Swiss bearings, which go well with this cruiser skateboard. You can get where you're going in less time, making this skateboard a more efficient transport option.
Also, the Ridge Cruiser Board weighs only 6.1 pounds, making it easy to carry inside school bags. Students can use this cruiser skateboard across their campuses.
Pros
Offers classic 70s style skateboard outlook
Can tolerate around 200 lbs of weight
Available in dozens of classic color combinations
Warranty available with product registration
Adjustable trucks
Cons
Relatively low weight capacity
9. Chromewheels Mini Cruiser Skateboard
Via: Amazon.com
The Chromewheels Mini Cruiser Skateboard is a small but versatile skateboard good for kids (three years or older). This 25-inch skateboard features a dynamic pattern that makes it quite fun. The blue and orange flames on a black base look stylish.
In terms of performance, this is one of the best small cruiser skateboards that would give even longboards a run for their money. The bearings are ABEC-7, which provide high speeds. Similarly, the trucks are aluminum alloy with PU cushions.
The deck is propylene, which makes it bendable. You have an anti-slip pattern to provide a strong grip. All in all, the deck is durable, even though it's plastic.
The wheels on the Chromewheels Skateboard are high rebound PU, measuring 60 x 45 mm. These bright, orange-colored wheels are aesthetically pleasing, too, not to mention they're good on a variety of surfaces.
The weight of the skateboard is only 3.8 pounds. Therefore, it should be easy to carry, even for kids. As for the weight capacity, it's 220 pounds, which means adults can step on it, if not ride it too comfortably.
This board is safe for beginners too, and it's CE certified. In fact, it might just be the perfect first skateboard for a kid or teenager. It can help them master their balance and learn reflexes before they can move to a bigger, more advanced skateboard.
The company claims it can fit even adults, but it's a bit small for adults, especially someone tall. This is because it's smaller on the sides for an adult's foot, perhaps for those who wear size nine or large. However, it can withstand an average adult's weight, so should not be a problem.
Pros
Ideal for beginners
Quality trucks and wheels
Cool flame design
Fast speed bearings
Sturdily built with a high weight capacity
Cons
Shrinkwrap gets stuck between the screws and wheels
10. YF YOUFU 22-Inch Mini Cruiser Skateboard
Via: Amazon.com
If you're looking for a beginner cruiser skateboard that's exciting and fun, the YF YOUFU mini cruiser skateboard is exactly that. Its graffiti print looks downright cool. Any kid would love to learn how to skateboard if they have a board like this.
The deck is bendable polypropylene, which is safe for kids. The size of the deck is 22 x 6 inches, which is good for kids. For those training, the 30 degrees tilt design also plays a vital role in learning basics.
The four support column design underneath the deck provides better balance and support for the young skateboarders. In addition, the 3.2-inch trucks are aluminum and give the plastic board more strength.
Even though it's for kids, the weight capacity is quite high, coming in at 220 pounds. The overall durability of this skateboard is impressive, considering it's not from a popular brand.
As for the grip, the anti-slip design features a very close-knit diamond pattern that provides a strong grip.
The highlight, however, at least for the kids, are the wheels. The YF mini cruiser skateboard features LED-lit wheels that light up as you glide. These don't need a battery or charging at all, instead, they use kinetic energy to power.
The wheels are 80A, which generally has high shock absorption. The bearings are AEBC-7, good enough for plastic wheels.
Another helpful feature of this skateboard is the cut-in that acts as a handle to carry it. As a result, it's super portable for kids. They can just slide their fingers in and carry it like a bag.
Pros
Lightweight
Perfect for learning basic skills
Cool design
High-quality wheels with LED lights
High weight capacity
11. Retrospec Ten Toes Quip Classic Mini Cruiser Skateboard
Via: Amazon.com
This mini cruiser skateboard from Retrospec is quite a looker. This all-white plastic deck with turquoise wheels is remnant of the 70s skateboards. If you like the traditional retro street style boards, this is one to beat.
The deck is made from high-quality and flexible injection-molded plastic. It measures 22.5 inches in length and six inches in width. The top has the quintessential anti-slip waffle pattern you'll find on most skateboards, while the bottom has support columns.
This skateboard features five-inch trucks and 85A PU bushings in the wheels. You don't have to put the trucks or wheels on as it comes ready and assembled out of the package. You can also find it in other bright colors.
This is one of the lightest cruiser skateboards you could have. With a weight of just 3.5 pounds, not only is it easy to maneuver, but it's also super easy to carry. You can easily fit in a backpack too.
The polyurethane wheels glide smoothly. It uses ABEC-7 bearings, which, as you know, is great for high-speed skating. However, the wheels are still pretty lightweight, just like the plastic deck.
Retrospec is known for making quality skateboards, and the Ten Toes Quip speaks to that. Even though it's not an expensive cruiser skateboard, it's still high-quality. Since it's white, it could get dirty, but you can clean it easily.
You can ride it even on the toughest of sidewalks with cracks and bumps. The wheels are soft and deliver a smooth ride. This is one of those cruise skateboards you can use for commuting or just for fun.
Pros
High-quality materials
Flexible plastic material for deck
Extremely lightweight and portable
Bearings deliver fast speeds
Easy to clean
Cons
Nuts are of a different size than most those on most skateboards
12. Globe Skateboards Big Blazer Cruiser Skateboard
Via: Amazon.com
This Globe Skateboard is essentially a longboard that doubles as a cruiser skateboard. It's 32 inches long and has a width of 9.25 inches. The wheelbase is long as well, measuring 17.5 inches.
Globe uses urethane in its wheel, so that's what you'll find in this skateboard as well. They also use high rebound bushings and ABEC-7 bearings. The diameter of the wheels is 62 mm, with a hardness of 83A. These should work well on virtually all surfaces.
Made of hard rock seven-ply maple, they use epoxy resin to press the decks. As a result, the skateboard is strong, but still not heavy. Additionally, the trucks are regular street trucks (six-inch slant trucks), which are typical for skateboards 34 inches or less.
The design of this Globe skateboard is quite interesting. It has a dual split graphic design (black and galaxy) paired with dual-color wheels. The dual-color is not exactly wheels in two tones, but rather two wheels in two different colors.
This model has a mellow concave with a kicktail, which is something all best cruiser skateboard for beginners have. You will get it preassembled, so you can simply start riding it out of the box. Its shape and size are appropriate for a rookie.
As far as the weight goes, this one is more on the heavy side. With 4.4 pounds, this is best for cruising only. You cannot do any tricks on this skateboard.
Another fun feature on this Globe skateboard is a built-in bottle opener. You cruise along the beach and open all the beers you need.
It's not clear where this particular model is manufactured. Globe is a truly global skateboard company. In fact, it's one of the best cruiser skateboard brands.
Pros
Very-well built deck
Large wheels
Bottle opener
Striking design
Perfect for beginners
13. Magneto Barefoot Mini Cruiser Skateboard
Via: Amazon.com
The Magneto Barefoot Mini Cruiser is one of the best mini cruiser skateboards because it's incredibly comfortable. Instead of the typical grip tape, it uses the EVA foam stomp pad. This foam provides cushioning for your feet and also absorbs vibrations from the road.
You can skate with it barefoot, that's even in the name of this skateboard. However, that does not mean you can't use it with shoes on. The grip would still be good.
The length of this mini skateboard is 27.5 inches, the width is 7.5 inches, and the wheelbase is 18.5 inches. The bearings are ABEC 11, which is acceptable at best. You might need some time to break in the bushings as they are quite soft.
Unlike those really small cruiser skateboards, this one leaves a decent room around your foot. If you're looking for a lightweight and comfortable mini cruiser skateboard, this will make a good choice.
While it's comfortable for your feet, it's equally comfortable for your palm and wrist when you carry it around. It has a very laid back vibe, so it's perfect for those who are not looking to do any tricks with the board.
At the same time, the double kick tails and medium concave make it a bit more versatile.
The deck is made of Canadian Maple, which goes well with the EVA foam. This is also great for commuting as it's soft. Your feet will love being on it, with or without shoes.
The hardness of wheels on the Magneto Barefoot Cruiser is 78A, so these are soft wheels. The weight capacity is high even though it's a small skateboard. It can withstand a weight of up to 275 pounds.
It might seem like it's something for kids or teenagers, but it's just as good for adults. The quality and craftsmanship are signature Magneto, which is pretty good. It's good for beginners too, as it rides smoothly.
Pros
High-quality Canadian Maple deck
EVA foam
Minimalistic design with a simple logo
Soft but sturdy wheels
Made in the US (Carlsbad, CA)
14. Junli 41-Inch Freeride Longboard Skateboard
Via: Amazon.com
The Junli Freeride Longboard features a 41-inch long deck with 9.5-inch width. It's a pretty big skateboard, that's also good for downhill in addition to cruising. The brushed black surface of the board acts as an anti-slip layer.
The deck is a heavy-duty cold press eight-ply maple wood. As a result, it has a very high weight capacity of 330 pounds. This is one of the sturdiest decks in this list, which even overweight individuals can use.
This one also offers a lot of maneuverability. You can use it for freestyle riding. As for surfaces, it should work fine even on bumpy surfaces on the road and sidewalks.
The Junli skateboard features large 70 x 51 mm wheels. These wheels are 80A PU, so still considerably soft. The ABEC-11 bearings help with high speeds while cruising.
The trucks are seven inches, made of aluminum alloy. They are quite responsive and feature a PU support pad that enhances control. You also get an all-in-one tool to take the wheels and tucks apart, even though it comes fully assembled.
You have two design options: Flowers and Starlit Night. Both are pretty intense in terms of colors. However, the prints are waterproof, so they will not fade so easily.
It's simple enough for beginners to ride. You can practice on it until you get the hang of it. However, a mini cruiser skateboard would be a better start.
Pros
Sturdy, high-quality deck
Gives you control of the ride
Brushed anti-slip surface
Large wheels
Waterproof printing
Cons
Best for experienced riders
15. Easy Way Complete Skateboard
Via: Amazon.com
The Easy Way Skateboard is the best budget cruiser skateboard that comes with a lot of accessories. You get a tool to unassemble it. You also get extra bearings, stickers, and paints to customize the deck the way you want to.
The size of the deck is 31 x 8 inches, and it stands four inches above the ground. This seven-ply wood deck is pretty stable and offers a weight capacity of 220 pounds. Even adults can ride this thing easily.
It features high-resistance 60 mm 85A PU wheels, while bearings are ABEC-11. It still gives a smooth ride on bumpy sidewalks, but it could be better. However, it turns quite smoothly, which makes it ideal for commuting and doing a little bit of tricks as well.
The trucks are made of durable aluminum and painted black to go with the wheels and the deck. The deck has waterproof paint on it that prevents water damage. It also features water-proof emery anti-slip grip tape.
There's a carry bag too that comes with the skateboard. It has a strap that would make it very easy to travel with the skateboard. Even if you just carry it in hand, it's lightweight enough.
This would make a perfect first-time skateboard for any kid and get them excited. It offers so many ways to give it your own twist in terms of the graphics. The skateboard's top is just black with the logo in the center.
Pros
High weight capacity
Great value for money
Many accessories
Durable construction
Great for commuting
Three Things You Need to Know About Cruiser Skateboards
Cruiser skateboards, generally, are identified by the types of wheels they have. Similar to longboards, cruiser boards are thinner and smaller, giving the skater higher speed and more control over curves and turns.
Before you can get to our list, there are three main things you should know about cruiser skateboards.
1. Cruiser skateboards are the best mode of transport
Cruiser skateboards aren't meant for performing tricks on ramps and skate parks. Instead, people use them for commuting over short distances.
As they're lighter than longboards, you're able to carry them around in your bag or your arms quite easily. They're also cheaper than public transport and a good means of exercise.
Therefore, cruiser skateboards are the perfect choice for high schoolers or college students who need to go to campus every day.
2. There are two main types of cruiser skateboards
Cruiser skateboards have the same properties as longboards but aren't big enough for more advanced skateboarding. On the market, you'll find both cruisers and mini cruisers.
Mini cruisers are lighter weight and more easily portable than regular cruisers. Therefore, they're great for commuting shorter distances. For example, you can use them to go from point A to B on campus.
Mini cruisers are especially popular amongst students because they're easy to keep in school bags. Hence, if you're a student, you might want to consider a mini-cruiser board as opposed to the regular one.
3. Any board can be converted into a cruiser skateboard
As mentioned, you can tell a cruiser skateboard from the kind of wheels it has. Any standard skateboard can turn into a cruiser skateboard by replacing the wheels. Cruiser skateboards have softer, more flexible wheels that give the skater more tread on rough terrain.
While wheels are the most important part, the shape and size of the deck are also significant. This is why we don't recommend replacing the wheels on a standard skateboard as they're generally less flexible and robust than cruiser skateboards.
How to Choose the Best Cruiser Skateboards
To pick out the best cruiser skateboards, you need to consider certain aspects of the board. First of all, you need to understand for what purpose do you need it. You need to know the answers to the following questions:
Where do you need to commute?
How long will it take to get there?
What is the terrain like?
The length of your commute and your stamina on a skateboard directly correlate, so make sure that the journey is something you can manage. Also, make sure the terrain is not too difficult.
To an extent, any of the best cruiser boards on the market will go smoothly on rough ground. However, make sure the pathway has more concrete than anything else.
Additionally, you need to look at the quality of the cruiser skateboard you're purchasing. By quality, we mean three key features:
Shape and Size
The best cruiser skateboards are a bit curved with a pointy front and a raised tail. This design is to make sure the board cuts through the air more easily. Make sure the curve is right on the skateboard before you buy it. Some cruisers have a more flat shape, which makes them a bit stiff in movement.
Additionally, when buying any skateboard, you need to take size into account. The size of the cruiser skateboard determines whether it's suitable for your height and weight. At the same time, cruisers are made smaller for faster performance. Therefore, you shouldn't look for cruiser skateboards bigger than 75 mm.
Flexibility
The second thing you need to check is flexibility, which means how impact absorbent your board is. In short, if a cruiser board is more curved, the more impact it'll absorb and the more stable it'll be at higher speeds. High flexibility also results in more comfort for the skater, even on uneven ground.
Curved-shaped cruiser boards are generally more flexible than flat-shaped ones, so we suggest you invest in those.
Wheels
Lastly, the wheels are the most vital part of the cruiser skateboard. For rough roads, soft wheels are ideal as they're more durable against rocks, dirt, twigs, and other debris. All skaters know how pesky small pebbles can be. The softer rubber used on cruiser wheels helps solve this problem.
Additionally, the size of the wheel should be a minimum of 55 mm, and hardness on the Durometer scale should be very low. The five best cruiser boards in this list all have high-quality wheels, ideal for transport.
FAQs
Are cruiser skateboards best for beginners?
Yes, cruisers are better for beginners than other skates since they are more tolerant on rougher roads, take fewer attempts to push about, and give more excellent stability.
It is the best of both worlds: a longboard and a skateboard in one. It is easy to transport and has all of the advantages of more extensive, softer wheels.
Are cruiser skateboards more stable?
The ideal form of skateboard for traveling short distances is a cruiser board.
However, It is less stable than a full-sized longboard, especially at the more incredible speeds of longboard. When driving down steep hills, its wheelbase paired with unstable trucks causes speed wobbles.
How fast can you go on a cruiser board?
The typical skateboard speed is roughly nine mph, including abilities, terrain, and settings. However, typical cruiser board speeds are 5–7 mph.
Moreover, the average skateboard speed is between 5 and 12 mph. Skaters accustomed to commuting at rates of 7–8 mph on 1-2 mile flat excursions are typical.
Are plastic cruisers good?
Plastic cruiser skateboards, sometimes known as Penny boards, have small, thin decks and lightweight materials.
As a result, these boards have excellent turning ability and are convenient to carry, making them ideal for youngsters. The decks come with broad, squishy wheels that make them easy to ride.
This style of board isn't ideal for tricks. So, if that is what you or your child want, a regular skateboard is the way to go.
How do I make my cruiser skateboard faster?
You can loosen the axle nut to speed up your longboard.
Overly tight axle nuts will prevent your wheels from rotating freely. That might be the cause of your board's sluggishness.
Worry not; you may get your wheels to spin smoothly again by loosening the bolts slightly.
Unscrew the bolts only enough to allow for some side-to-side movement. However, do not make them too loose or come off their axles.
Conclusion
In sum, this list contains the best cruiser skateboards for both beginners and advanced skateboarders. However, our winner is the Skatro Mini Cruiser Skateboard as it meets all three requirements we listed out in our criteria.
Via: Amazon.com
The size and shape are favorable for cruising around on pavements and boardwalks, providing enough flexibility to make sharp turns. Also, at 59 mm, the wheels are large enough to endure bumpy pavements without getting damaged.
The Skatro Mini Cruiser Skateboard comes highly recommended by users for being an easy, lightweight, and long-lasting investment. This skateboard gives you the high-performance found in longboards at a more affordable price.
Hence, if you're a professional skater looking for a cheaper option or a beginner wanting to learn a new skill, the Skatro Mini Cruiser may be the perfect choice for you.